Goodbye Downton Abbey, hello modern luxe: Kirkton Park's sexy new look.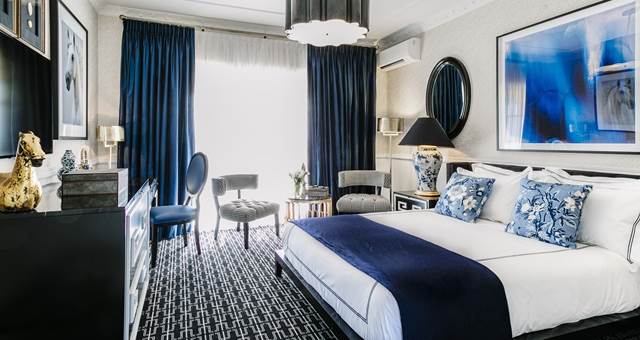 Goodbye Downton Abbey, hello modern luxe: Kirkton Park's sexy new look.
The historic Sebel Kirkton Park Hunter Valley is undergoing an extensive refurbishment which will see all of its rooms completely transform from 'quaint country manor' to 21st century chic under the command of internationally renowned interior designer, Greg Natale.
Set for completion in November 2015, all of the resort's 70 guestrooms will receive a complete makeover featuring Natale's signature style and many of his collaborations with companies such as Designer Rugs, Porters Paints and furniture powerhouse Casa Mia will be on display.
Along with the makeover of the guestrooms, Natale will also be updating the lobby and will be designing a new restaurant, wine lounge and bar. Once complete, the sprawling property will set a new benchmark for hospitality in the Hunter Valley region.
The Sebel Kirkton Park Hunter Valley General Manager, Belinda Paterson, said: "We are thrilled to see The Sebel Kirkton Park embark on a new chapter and watch it come to life under a completely new look and feel.
"While the grand exterior of the property will remain the same, guests will be in for a welcomed surprise as bold colours, rich fabrics, soft lighting and striking furnishings fill the space.
"From the guestrooms to the restaurant, bar and lobby our guests will see a complete transformation and we look forward to seeing them experience the unparalleled luxury once the refurbishment is complete in November," Paterson said.
Set on a 70 acre estate, The Sebel Kirkton Park offers sensational Hunter Valley vistas and picture perfect manicured gardens, making it one of the region's most popular resorts. Complete with sustainable farming used to support the restaurant and bar, Kirkton Park is named after the first vines established in the area in the mid 1800's by James Busby.
The undulating retreat boasts tennis courts, a billiards room, an onsite Grecian-style pool house with indoor heated pool, sauna and spa, and a gymnasium.