New Zealand Prime Minister John Key has announced the Government has entered negotiations with SkyCity to build the country's national convention centre in the heart of Auckland's CBD.
BY JAMES WILKINSON
New Zealand Prime Minister John Key has announced the Government has entered negotiations with SkyCity to build the country's national convention centre in the heart of Auckland's CBD.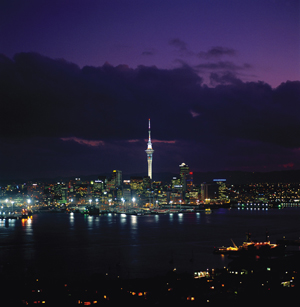 Auckland: home of New Zealand's new, national
convention centre
The PM said he expects the NZD$350 million, 3500-seat New Zealand International Convention Centre to inject around NZD$90 million into the economy annually by an estimated 33,000 new delegates.
"An international-sized convention centre is essential for New Zealand to tap into the growing market of high value business visitors that we are currently missing out on," Key said.
"The tourism industry and business sector have been calling for an international-sized centre for years. Now, with SkyCity, we have the opportunity to build one that will encourage more visitors to come to New Zealand and give a valuable boost to our economy."
SkyCity was selected to build the new centre, which will be located adjacent to the existing SkyCity Auckland complex between Nelson and Hobson Streets, following expressions of interest from the New Zealand Government.
SkyCity Chief Executive Nigel Morrison said the centre was an important and long anticipated development for both Auckland and the New Zealand convention and tourism industries.
"SkyCity is excited to be involved in this development and we welcome the opportunity," he said. "We envisage that the New Zealand International Convention Centre on this site will be an iconic building in the heart of Auckland, central to hotels, universities, theatres, entertainment and all forms of hospitality. It will be something we can all be proud of.
"Auckland will now be in a position to attract major international conferences and exhibitions that New Zealand currently misses out on.
"These will bring large numbers of new international convention delegates and visitors to Auckland and New Zealand," he said.
Morrison said SkyCity was prepared and able to fund the full development costs, however, it was "subject to reaching a satisfactory outcome from the discussions with government, to ensure SkyCity achieves an overall acceptable return on this substantial investment".
"We are looking to expand the existing casino and entertainment complex to accommodate the future growth from this development and as Auckland continues to grow as an international world-class city," he said.
"We are about to start negotiations with government on the regulatory changes we need to support the investment in the convention centre development.
"SkyCity is simply seeking – and government is prepared to consider – changes to the gaming regulations to extend the term of our operating licence and to increase the scale and efficiency of our casino facilities in Auckland," Morrison said.
Key said SkyCity has asked the Government to "consider some alterations to gambling regulations and legislation", according to the Prime Minister.
"Any changes to gambling regulations will be subject to a full public submission process," he said.
"SkyCity's proposed centre would be a major asset for New Zealand and would generate significant spin-off benefits for our economy.
"I welcome negotiations with SkyCity to build a centre that would bring huge benefits to Auckland, boost tourism, and create jobs."
Morrison said SkyCity is "entirely comfortable with the Government's non-negotiables".
The new centre has been welcome by the country's peak events industry body Conventions and Incentives New Zealand (CINZ).
CINZ Chief Executive Alan Trotter said the centre would "significantly boost New Zealand's ability to attract lucrative international conferences and events".
"The announcement by the Government that it is negotiating with SkyCity to build a national convention centre in Auckland is fantastic news for business tourism in this country," he said.
"We've been lobbying for the best part of two decades for a national convention centre that could accommodate large international events that we've missed out on in the past because we didn't have an appropriate venue.
"Hosting conferences and conventions is big business, adding about NZD$1 billion to our economy each year.
"If we want to build on that we need to provide bigger and better facilities or we will lose out to other destinations.
"Sydney has found that out the hard way; it's missed out on around AUD$500 million over the past five years because of its failure to secure major international conferences," he said.
Trotter said given the tight economic conditions, the agreement reached in principal between the Government and Sky City is a pragmatic and realistic solution to a long-term problem.
"It is vital that we invest in our business tourism infrastructure. The agreement announced today allows us to do that without putting any undue burden on taxpayers or Auckland ratepayers," he said. "It's a win-win that will result in more visitors, more jobs and more money coming into our economy."
The latest CINZ figures show international conference delegates visiting New Zealand for business tourism purposes spend an average of NZD$440 a night, around four times more than other international visitor spend.
"The yield we get per person from business tourism is much higher than the yield we get from leisure visitors so that's why it is such a crucial segment of our industry," Trotter said.
"If we want to continue to attract these high value visitors then we need this international convention centre."
Accor's Vice President for New Zealand, Paul Richardson said the long-awaited announcement was great news for the country's tourism industry.
"The Convention Centre will be a fantastic asset for Auckland and New Zealand tourism at large, enabling the country to compete on the world stage as an international conference and exhibitions destination," he told SpiceNews.
"There's a whole business conference segment that haven't been able to be accommodated by existing conference facilities and we are excited by the potential to the hotel industry of an additional 101,000 visitor nights.
"Economically the forecasted NZD$90 million in additional tourism spending annually and the creation of up to 80 jobs will be a big boost to the economy," he said.
SpiceNews will be reporting live from Rotorua next week from MEETINGS 2011 – don't miss our exclusive video reports from New Zealand's leading MICE event.