Perth's premier mega venue has received an array of tech upgrades. Find out what's new here.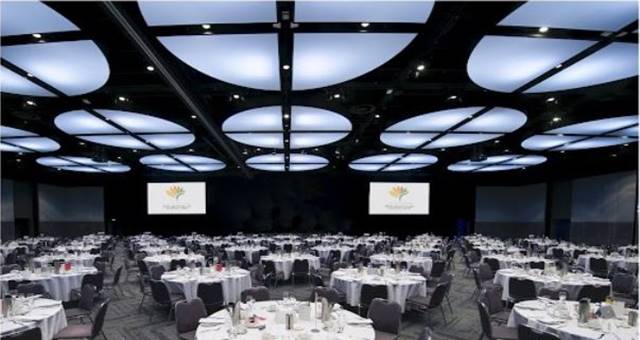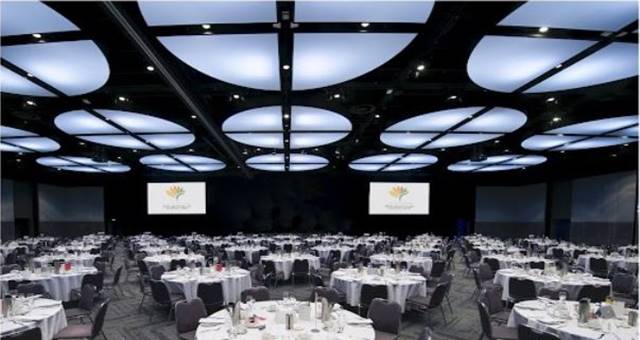 AVPartners has completed a series of state-of-the-art technical enhancements at Perth Convention and Exhibition Centre (PCEC) to complement PCEC's recent refurbishment upgrades to the venue.
New to the venue is colour coded LED Barrisol lighting in PCEC's BelleVue Ballrooms, which washes the space in a wide variety of vivid colours; creating a personalised look and feel. In addition, 180 intelligent LED fixtures which illuminate individual tables have also been installed, creating a stunning alternative or enhancement to a table centrepiece. These intelligent LED fixtures also extend into the Ballrooms' two pre-function spaces, providing guests arriving for a Gala event with an exciting and vibrant atmosphere to enjoy their pre-dinner drinks.
Other lighting additions include intelligent LED fixtures in the Theatre and Central Foyer spaces which heightens the atmosphere for guests passing through these areas when attending events at PCEC.
To further complement the event experience at PCEC, AVPartners has also introduced digital signage for seating plans; a simple and effective solution which allows for flexibility and easy last minute changes, inclusion of client and sponsor logos and even video.
Meeting rooms have been equipped with wireless entry double doors and new floor and wall coverings, including permanently installed curtains with LED downlighting, highlighting the stage presentation areas.
The technical upgrades demonstrate AVPartners' commitment to supporting PCEC to remain at the forefront of the business events industry in WA and in Australia more broadly.
"Offering a world-class event experience relies on exceptional audiovisual concepts and sophisticated technology. We're proud to work alongside PCEC to deliver events underpinned by both," says AVPartners Managing Partner at PCEC Ryan Taylor.
"The technological upgrades will ensure PCEC remains a leading conference and event venue now and into the future."
As Perth's only dedicated conference and exhibition centre, PCEC is continually looking for ways to improve event experiences and stay ahead in an increasingly competitive market.
"The revitalisation of PCEC allows us to remain at the forefront in meeting the evolving needs of our clients," explains PCEC General Manager Nigel Keen.
"We draw many major national and international guests, and in anticipation of our 2017 calendar of events, and for the years to come, we are striving to maintain modern facilities with a contemporary feel that allows our guests to achieve their outcomes in a business-friendly environment."
"The implementations by AVPartners set us apart from many of the other conference and event venues, and further strengthen PCEC's position in the Asia-Pacific region."
The technical improvements are part of a broader PCEC revitalisation project which included updates to function and meeting rooms and the launch of a new bar and café, @Liberty, with an outdoor area and private dining room.