Five courses were created by five of Melbourne's best for the annual Starlight Five Chefs Dinner at the MCEC
Five courses were created by five of Melbourne's best for the annual Starlight Five Chefs Dinner at Melbourne Convention and Exhibition Centre (MCEC) on Friday (24 May.)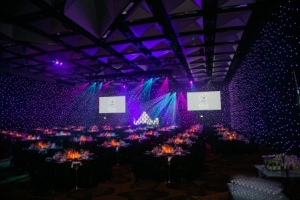 The MCEC sparkled for the anual gala fundraiser event.
MCEC were proud to host and sponsor the major Starlight Children's Foundation fundraiser for the second year and help the charity raise more than $400,000 on the night.
Featured chefs included Mark Best (Pei Modern and Marque), Pierrick Boyer (Le Petit Gateau), Guy Grossi (Grossi Florentino), Dan Hunter (Royal Mail Hotel), Karen Martini (mr. wolf) and MCEC's Executive Chef Tony Panetta who provided the night's canapés.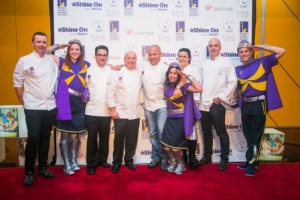 The chefs teamed up to create a five course menu to raise more than $400,000 for the charity.
The room sparkled with creative lighting by MCEC's technology team while the kitchen team were all hands on deck preparing and plating up dishes for more than 500 guests.
MCEC Executive Chef Tony Panetta said: "We get a real sense of pride being involved with this event and the team thoroughly enjoyed working with the five chefs and their assistants in preparing the night's degustation menu."
Collaborating with MCEC from the initial menu tasting Pei Modern's Head Chef Matt Germanchis said: "Mark [Best] and I were so impressed with the professionalism and ease of working with Tony and the team.
"Given MCEC's kitchen is such a large scale production, and there were more than 500 people to feed, the team prepared dishes that maintained restaurant quality and we had every confidence in how the food was presented."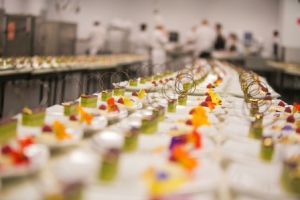 The menu included creations from 5 chefs including Pierrick Boyer of Le Petit Gateau's dish above.

Between courses guests heard stories of inspiration and hope as the charity marked 25 years of supporting Australia's seriously ill children.
Starlight Children's Foundation senior partnerships executive, Chris Di Petta said: "We are so fortunate to have the support of such an amazing venue and dedicated team at MCEC who delivered a first-class, fantastic experience for our guests.
"We just couldn't do it without our partners like MCEC who donate so much energy, time and detail to help us raise as much money as we can for Starlight kids."