Adelaide gets its first Holiday Inn Express. More details here.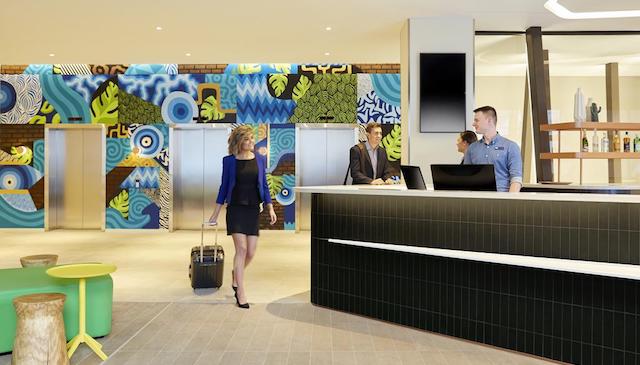 IHG has debuted its Holiday Inn Express brand in South Australia.
Holiday Inn Express Adelaide City Centre is a nine-storey, 245 room hotel located at the intersection of Hindley Street and Blyth Street laneway in Adelaide's CBD.
It is the third Holiday Inn Express to be opened in Australia by Pro-invest Group following the launch of their Sydney and Brisbane properties.
The hotel's interiors were designed by architect Joseph Pang and feature a mural spanning two levels by local street artist Azzurro, which is connected by a grand timber and steel staircase leading to The Great Room, featuring a contemporary, urban-style fit out.
The hotel was officially opened on September 28 with a ceremonial ribbon cutting by Pro-invest Group Chief Executive Ronald Barrott. Also attending the launch event was Tourism Minister Leon Bignell.
There are currently 2,542 Holiday Inn Express hotels (more than 253,000 rooms) open across the globe. Holiday Inn Express Adelaide is part of a nationwide hotel roll out program by IHG and investment firm Pro-invest Group, which has already committed a dozen hotel projects so far. Given the performance of its three existing hotels, Pro-invest is planning to add another dozen hotel projects over the next 5 years, meeting the growing demand for the quality select service segment.
Holiday Inn Express Adelaide City Centre is located at 30 Blyth St, Adelaide.