The team is eager to swing open the doors for the very first time.
Centrepiece at Melbourne Park render
Melbourne's highly anticipated new conference and events venue, Centrepiece at Melbourne Park, has confirmed its first event will take place in September 2021.
The venue, part of Melbourne & Olympic Parks, will swing open the doors to welcome delegates to the Associations Forum National Conference on 6–7 September.
The event couldn't come soon enough for Lara Burnes, general manager of Premier Events & Experiences, who has spent the last four years planning for the opening.
"It's been a long time coming – and the team and I are buzzing with excitement to welcome Australians, and guests from abroad, to experience unparalleled events that leave you in awe," she said.
"With Centrepiece located within our iconic Melbourne & Olympic Parks precinct, the new venue will also become the official media centre for the Australian Open 2022. This year we were able to enjoy a sneak peek into how our venue will support the Aus Open, as well as interact with its surrounding sister venues.
"So far, Melbourne & Olympic Parks has already welcomed over 250,000 guests across 60 event days in 2021, and we cannot wait to officially open the doors to Centrepiece."
---
Go behind the scenes at Centrepiece at Melbourne Park in our latest issue.
---
As the first official business events at the centre, the 16th annual Associations Forum National Conference will host hundreds of senior executives and board members to share knowledge and best practice within the associations sector.
Associations Forum general manager Fatima Sunderji said excitement is building for the in-person gathering.
"We are so honoured to be the first national conference to make its mark on this state-of-the-art venue and can't wait for our associations, charities and not-for-profit organisations to experience this firsthand," she said.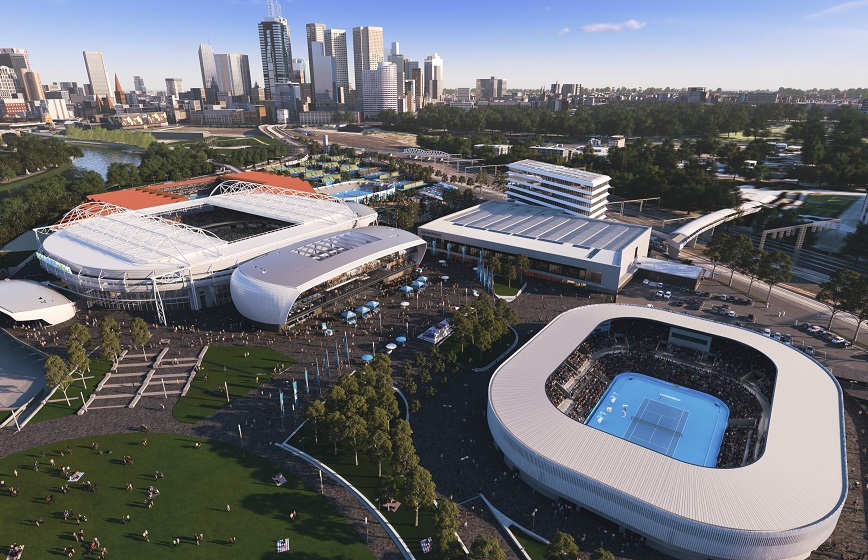 For planners looking to get a sneak peek of the venue before it opens, hard hat tour expressions of interests are now open online.