ICC Sydney and Hyatt Regency are some of the Aussie winners at the World Travel Awards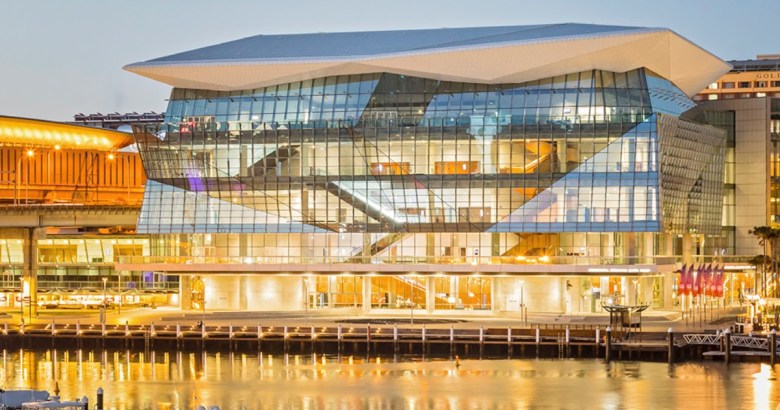 The ICC Sydney at Darling Harbour
Australia's status as a global leader in the business events industry has been reaffirmed as Melbourne and Sydney both clinched numerous World Travel Awards.
Australia won Oceania's Leading Destination whilst Melbourne took out Oceania's Leading City Destination gong and InterContinental Melbourne The Rialto won Oceania's Leading Business Hotel 2023.
The ICC Sydney – which played host to over one million visitors across 500 events last financial year – won Oceania's Leading Meetings & Conference Centre 2023 while the city's Hyatt Regency won Oceania's Leading Conference Hotel 2023.
The announcement was made on September 6 at the World Travel Awards Asia and Oceania Gala Ceremony 2023, held in Ho Chi Minh City, Vietnam.
Melbourne Convention Bureau CEO, Julia Swanson, said Melbourne consistently triumphs on the global stage.
"This award demonstrates our city's ongoing commitment and excellence in the business events sector," Ms Swanson said.
"The appeal of Melbourne as a top-tier business events hub is a direct result of our city's exceptional fusion of world-class infrastructure, vibrant cultural scene, accessibility, and robust industry expertise.
"Our city's distinctive offerings not only captivate attendees, but also provide organisers with an unmatched platform to curate impactful and unforgettable events.
"This dynamic environment empowers conference organisers to craft engaging content and attract speakers from our pool of local researchers and academics, thereby driving delegate attendance."
The World Travel Awards are voted by travel professionals and high-end tourism consumers.
List of Oceania winners from Australia
Oceania's Leading Destination 2023 – Australia
Oceania's Leading City Destination 2023 – Melbourne
Oceania's Leading Meetings & Conference Destination 2023 – Melbourne
Oceania's Leading Meetings & Conference Centre 2023 – ICC Sydney
Oceania's Leading Conference Hotel 2023 – Hyatt Regency Sydney
Oceania's Leading Business Hotel 2023 – InterContinental Melbourne The Rialto
Oceania's Leading Destination Management Company 2023 – Australia Inbound
Oceania's Leading Airline Lounge 2023 – Qantas First Lounges Sydney and Melbourne
Oceania's Leading Airport 2023 – Melbourne Airport
Oceania's Leading Airport Hotel 2023 – PARKROYAL Melbourne Airport
Oceania's Leading Airport Lounge 2023 – Aspire Lounge Perth Airport T1 International
Oceania's Leading Boutique Airport Hotel 2023 – Kingsford Brisbane Airport Hotel
Oceania's Leading Boutique Hotel 2023 – Saffire Freycinet
Oceania's Leading Car Rental Company 2023 – Hertz
Oceania's Leading Casino Resort 2023 – The Star Gold Coast
Oceania's Leading Cruise Line 2023 – Royal Caribbean International
Oceania's Leading Hotel Brand 2023 – InterContinental Hotels & Resorts
Oceania's Leading New Hotel 2023 The Langham, Gold Coast
Oceania's Leading Online Travel Agency 2023 – Webjet
Oceania's Leading Serviced Apartment Brand 2023 – Quest Apartment Hotels
Oceania's Leading Serviced Apartments 2023 – Meriton Suites World Tower, Sydney
Oceania's Leading Tourism Winery 2023 – Jacob's Creek
Oceania's Leading Travel Agency 2023 – Flight Centre
Oceania's Leading Travel Management Company 2023 – FCM Travel
List of Australian winners
Australia's Leading Boutique Hotel 2023 – Emporium Hotel South Bank
Australia's Leading Business Hotel 2023 – Hyatt Regency Sydney
Australia's Leading Car Rental Company 2023 – Avis
Australia's Leading City Hotel 2023 – voco Melbourne Central
Australia's Leading Destination Management Company 2023 – Australia Inbound
Australia's Leading Hotel 2023 – Pan Pacific Melbourne
Australia's Leading Hotel Residences 2023 – The Langham, Gold Coast
Australia's Leading Hotel Suite 2023 – Presidential Opera Suite @ InterContinental Sydney
Australia's Leading Lifestyle Hotel 2023 – W Brisbane
Australia's Leading Lodge 2023 – Saffire Freycinet
Australia's Leading Luxury Hotel 2023 – The Fullerton Hotel Sydney
Australia's Leading Online Travel Agency 2023 – Webjet
Australia's Leading Resort 2023 – Emirates One&Only Wolgan Valley
Australia's Leading Retreat 2023 – Gaia Retreat & Spa
Australia's Leading Tour Operator 2023 – Inspiring Vacations
Australia's Leading Travel Agency 2023 – Flight Centre
Australia's Leading Travel Management Company 2023 – FCM Travel