Exhibition and Trade Fairs, owners of Melbourne's and Sydney's Event Showcase, has announced that the Showcase season has commenced for another year.
Exhibition and Trade Fairs (ETF), owners of Melbourne's and Sydney's Event Showcase, has announced that the Showcase season has commenced for another year. The 2012 Showcases, held on the 27-28 June (Melbourne) and 15-16 of August (Sydney), are now taking enquiries and bookings for exhibitors.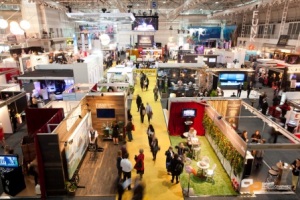 The Melbourne and Sydney Event Showcases will again take place in June and August (respectively) 2012.
Image courtesy of Oneill Photographics

More than just a tradeshow, the 2012 Showcases will display events in action, new ideas and provide delegates and exhibitors alike with the opportunity to see and experience the latest in industry trends. The Showcase's also set the foundation for excellent networking opportunities with industry colleagues in a creative environment.
Delwin Kriel, event manager of Melbourne and Sydney Event Showcase has incorporated extensive promotional plans to offer greater support for exhibitors.
"Our marketing plans will provide a range of exciting new opportunities to promote exhibitors presence at the shows.
"A number of fresh initiatives will be unveiled, with the theme of 'New' – new ideas, new inspiration. Our vision for the 2012 Showcase expos is that the visitors will stay longer, learn more about the possibilities for their events and of course work with our exhibitors to make their next event the best it can be," said Kriel.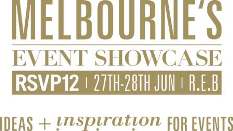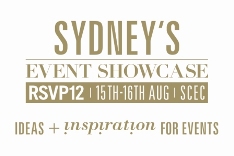 Now in its sixth year, the Melbourne Event Showcase, held again at the Royal Exhibition Building (R.E.B.), will draw on the local talents of the city's leading event suppliers to present a creative and informative tradeshow experience. This year the show will incorporate a new layout, including new Showcase zones, such as the Team Building Zone, The Restaurant Showcase, Catering Alley and the Outdoor Events Showcase.
Sydney's Event Showcase, held at the Sydney Convention and Exhibition Centre (SCEC) is now in its eighth year and will have over 200 exhibitors and 5,500 decision makers from the corporate events world attending.
"The Sydney Showcase will incorporate an all new Masterchef-style kitchen area, known as The Kitchen.
"Additionally, the revitalised Australia's Event MasterClass Seminars, will feature new ideas and new inspiration, taking you behind the scenes with the leaders in the event industry," said Kriel.
The Showcase season provides unparalleled opportunities for buyers and sellers to gather, to experience and to be inspired by the best of the events industry and what it has to offer in 2012 and beyond.
Visitor registrations will open the beginning of February 2012. Spice Magazine and SpiceNews.com.au are proud media partners for both the Melbourne and Sydney shows.