Get your entries in for the chance to be recognised in the annual awards.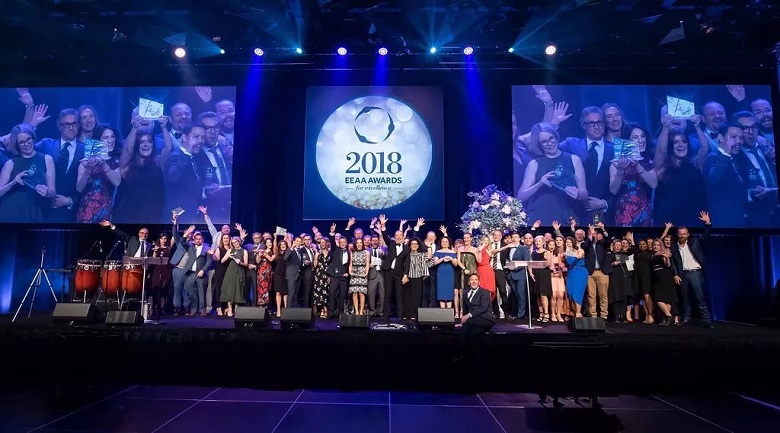 EEAA 2018 Awards for Excellence
Start preparing your entries – the Exhibition and Event Association of Australasia (EEAA) has announced submissions are now open for the EEAA 2019 Awards for Excellence.
The annual awards are open to organisers, venues and suppliers who deliver events and provide a great opportunity to highlight the individuals behind exceptional events.
"We are calling on the industry tell us about the talented teams and individuals who have shone in 2019," said EEAA chief executive Joyce DiMascio.
"There are now five categories focussing on recognising people – these categories are the Richard Geddes Young Achiever Award, the Unsung Hero Award, the Best Show Team, Best Venue Team and the Best Supplier Show Team."
The full list of 2019 award categories are as follows:
Best Consumer Show under 10,000m2
Best Consumer Show over 10,000m2
Best Trade Show under 10,000m2
Best Trade Show over 10,000m2
Best New Show
Best Association Event
Best Custom Stand
Most Outstanding Marketing Campaign
Best New Product or Service
Best New Initiative Small Scale Venue
Best New Initiative Large Scale Venue
Best Corporate Citizenship
Best Show Team
Best Venue Team
Best Supplier Team – Event
Best Supplier – Services or Products
Richard Geddes Young Achiever
Unsung Hero
Most Creative Innovation in Event Experience Delivery
Best Innovation in Event Tech
Best Show (only winners from the show categories will qualify)
Entries must be for events or initiatives that occurred between 1 October 2018 and 30 September 2019. View the full list of criteria here or submit your entry here before submissions close on 27 September 2019.
The winners will be announced at the EEAA 2019 Awards for Excellence Gala Dinner in Melbourne on 4 December 2019.
The event will be hosted by The Big Group at their venue Myer Mural Hall.
"We are pleased to be partnering with the association as the host venue for the prestigious Awards for Excellence celebration," said Vince Azzopardi, group venues manage at The Big Group.
"The Mural Hall team will deliver a special night and ensure that the association's members have a memorable experience."