The Harbour City is also on track to exceed pre-pandemic levels for event deliveries this year.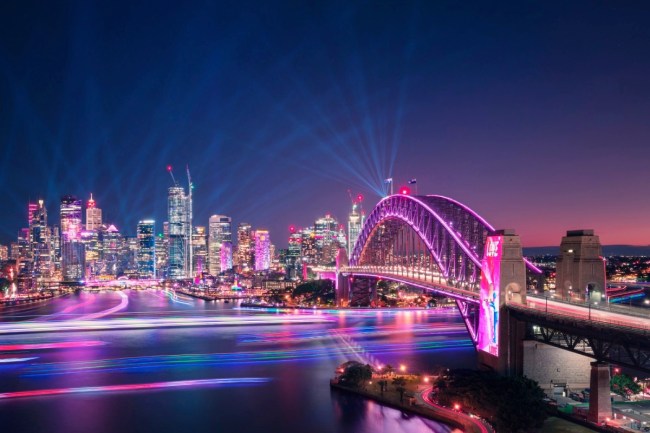 Sydney Harbour during VIVID. Photo: Destination NSW
Business Events Sydney (BESydney) has secured 54 new business events which are expected to attract more than 55,000 delegates and generate $210 million in direct expenditure.
Announced at its AGM held on October 31, for the financial year 22/23, BESydney reported 57 global and national meetings held which attracted 41,000 delegates generating an estimated $155 million in direct expenditure for the state.
BESydney CEO, Lyn Lewis-Smith, said the organisation reported a strong financial year result.
"Boosted by events postponed into 2023 from pandemic affected years and the Asian incentive market return, calendar year 2023 sees our events delivered for Sydney on track to exceed pre-pandemic years," Ms Lewis-Smith said.
"This has been an incredible year for the organisation demonstrated by the recent brand and website launch and our new strategic agenda 'Change Starts Here'.
"The organisation is dedicated to social impact and how we can deliver for our clients, our city and globally.
"Our renewed focus will see some incredible outcomes as we explore ways of making change for the better."
BESydney also announced that current chair Bruce Baird will be stepping down and replaced by Professor Mary O'Kane in February next year.
"I am so proud to be leaving the BESydney Board as the organisation returns to peak performance following Covid," Baird said.
"The past six years with the organisation has certainly seen business highs and lows in an uncertain environment."