Rockpool Dining Group will open its 900-seat, two-storey Munich Brauhaus in Brisbane this Friday (4 May).
Located in the renovated, heritage-listed Allgas Building in Stanley Street Plaza, this Bavarian restaurant has two levels and a 250-seat outdoor bier garten.
Heritage-listed features and details, including high ceilings, exposed timber trusses and bare brick walls, give the venue a Bavarian alpine feel.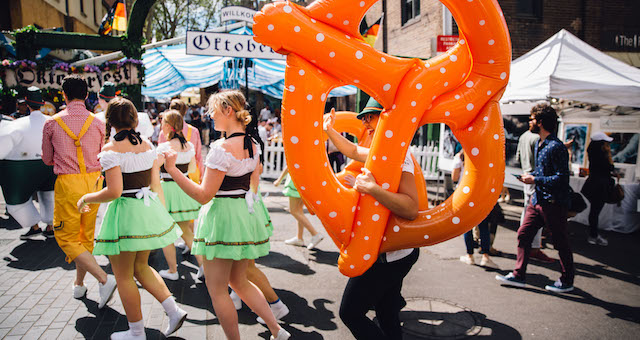 The alpine décor combines with traditional bier hall elements, including communal tables, bench seating and stages for bands and interactive performances, to create a casual, high-energy vibe.
The ground floor has a main dining hall that accommodates 150 guests, a large bar and a stage. A signature stein chandelier hangs over the bar.
Upstairs the Jäger and Über rooms accommodate 200 and 300 guests respectively, with the Jäger room also featuring a large bar and stage.
An à la carte menu features Bavarian classics, including crispy pork knuckle, crackling pork belly, schnitzels, German and gourmet sausages, and a range of shared platters. Lighter bites include salted pretzels, chicken wings, hot dogs and haus pickles.
Event menu options include cocktail style with canapés, cocktail style with food stations – such as hot dogs, and sit-down set menus. Beverage packages are available, or drinks can be charged on consumption.
The venue has 36 tap and 17 draught biers, including those from renowned Bavarian breweries Löwenbräu, Hofbräu, Franziskaner, Paulaner, Spaten and Steigl. Also on tap are a range of craft brews and strong biers including an Imperial Pilsner and a Red Bock, supplied by Urban Craft Brewing Co. a wholly owned subsidiary of Munich Brauhaus' parent company Rockpool Dining Group.
Munich Brauhaus is located at 153 Stanley Street, South Brisbane, Queensland.