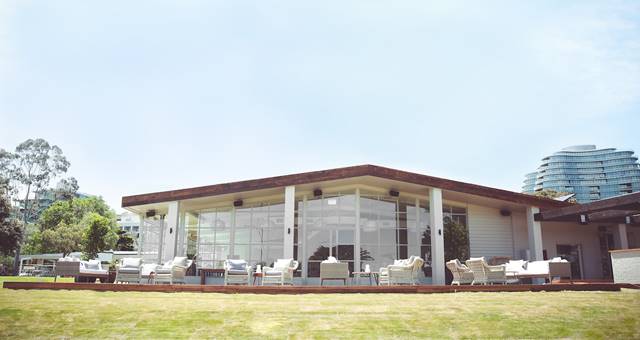 Greenfields Albert Park in Melbourne has just been re-designed by Alex Zabotto-Bentley and his team.
With a view over the Albert Park Lake, the upgraded space is suitable for a range of functions and events including yoga and meditation, music, inspirational talks and long, lazy lunches.
Owner, Simon Digby engaged Alex Zabotto-Bentley and his team at AZBCreative to create a warm and sophisticated bohemian vibe with tactile finishes. Inspired by calm sanctuary spaces, piazzas and town squares from Istanbul to Rome, Alex wanted to capture Melbourne's European heritage and create a retreat from the stresses of daily life. The effect is warm, human and relaxing.
"We worked in a gentle palette of slubby greys, pumice and mint, adding verdant lush plants in oversized, handcrafted pots and textured woven rugs, baskets and lights. We even thatched the ceiling in the bar with custom woven reeds. Everything has soul and a sense of history," said Zabotto-Bentley.
Greenfields Lakehouse required significant architectural remodeling. The perimeter wall was relocated to create a massive casement window in steel and powder-coated in AZB Straw pigment, while 100-year-old bricks were repurposed to create an outdoor dining deck.
Greenfields Albert Park is located at 35/37 Lakeside Dr, Melbourne Vic.