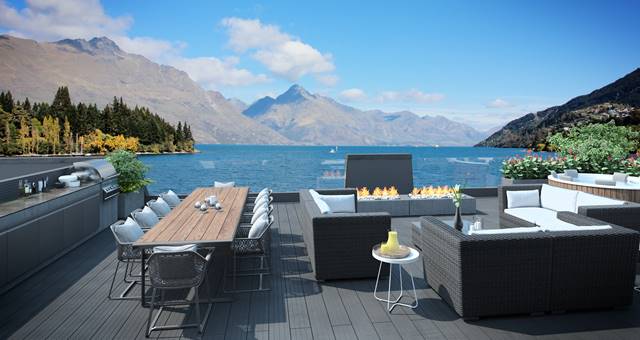 New Zealand's priciest hotel suite is gearing up to open next month.
Overlooking Queenstown's Lake Wakatipu, Eichardt Private Hotel's new penthouse is the final flourish in Eichardt's $6 million expansion, that also includes a new 200-seat restaurant and two Hotel Lake View Suites.
The Penthouse has a terrace spa, in-suite sauna, 24/7 butler service and afterhours one-on-one shopping experiences with brand partners across Queenstown. Guests will also enjoy Krug Champagne refreshed daily, deluxe toiletries, commercial grade kitchen, private chef and a Land Rover and driver at their disposal.
Located next to the historic neo-classical Eichardt's Private Hotel on Marine Parade, the new Skyline Enterprises building that houses The Penthouse and The Grille (Eichardt's' newest waterfront restaurant) was designed by award-winning Queenstown architect Michael Wyatt.
Rates for the 240sqm (plus 100sqm balcony) penthouse suite are $10,000 per night, with the two additional Lakefront Suites available for $1950 per night. Reservations are officially open from 15 December 2016.
The Penthouse is located at Marine Parade, Queenstown, New Zealand.