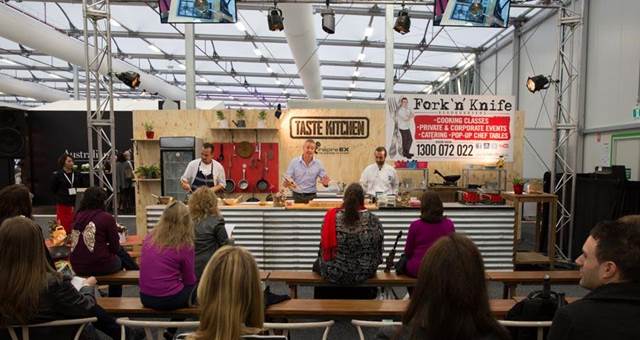 The Taste Kitchen
The first Inspire EX show wrapped up on Tuesday afternoon with mixed reviews from exhibitors and hosted buyers. The wet weather seems to have impacted attendance due to the difficulty of accessing the Glebe Island temporary SCEC location, in spite of the free buses and ferries offered by the organisers.
The Taste Kitchen where exhibitors including Trippas White Group Catering, China Republic and Gelato Messina demonstrated their wares, the Apples and Pears Entertainment performances during the networking drinks on Monday and the hosted buyer dinner at Sydney Town Hall all received rave reviews. The Gelato Messina cart was quite possibly the most popular stand, with a perpetual line of visitors waiting for free scoops of salted caramel and white chocolate, salted coconut and mango and peanut butter flavours.
The overall feedback was that the show floor had a pleasantly relaxed vibe where buyers had plenty of time and opportunity to chat to the exhibitors. As one attendee noted, "It's the Mercedes Benz sell where you take the time to really get to know what people are looking for."
The Doltone House stand
Spice's annual stand awards were taken out by Doltone House for the large stand and AV1 for the small stand. The Doltone House stand was custom built by Decorative Events for the exhibition and was a genuine reflection of the brand values of the group. It also didn't hurt that they were handing out Champagne, gold macarons and handmade chocolates. The AV1 stand was creatively conceived around the theme of 'Dream Big' and featured a pyjama-clad staff member, a chalk board for ideas and a cartoon-like set.
Sleeping on the job at the AV1 stand
We would love to hear your thoughts on the inaugural Inspire EX so feel free to send your comments through to egardiner@intermedia.com.au