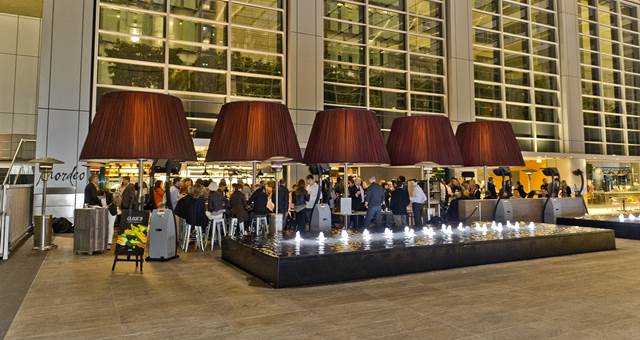 Mordeo Bistro and Bar has brought a slice of Southern Europe to Sydney's CBD.
A truly elegant, hospitable hotspot has opened up in the former cultural wasteland of the Deutsche Bank central courtyard on Phillips St, Sydney.
The canapé options at this chic new venue include pork hock terrine with a fig chutney and pear salad, grilled quail with caramelised red onion salsa, pea risotto with sage and lberico Jamon, chicken Ballotine with pearl barley, spinach and a hazelnut salad, squid ink gnocchi with truffle salumi, margherita mini pizzas with basil and whitebait croquetas with a cauliflower mayonnaise.
Alongside the extensive selection of canapés, there are also more substantial options on the menu such as slow cooked octopus Carpaccio with split green beans and chorizo sausage, BBQ lamb ribs with Pedro Ximenez and desserts like catalana and loukoumadis.
The drinks are particularly curious with cocktails like the 'Red Wolf', a White Wolf cream ale with Campari, Antica formula red vermouth and a blood orange foam, a Jamon and chargrilled pineapple Sazerac with a Jamon and sage crisp and an Old Fashioned made with cold drip spiced rum.
Mordeo is located at 126 Phillips St, Sydney.