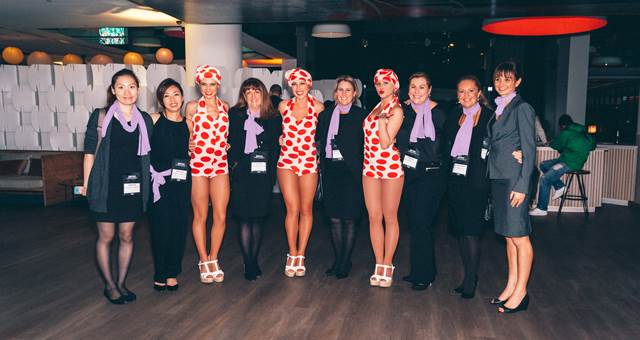 The Gold Coast Tourism team with some of the performers at the This is Gold Coast Business Exchange welcome event held at QT Gold Coast
A select group of 40 corporate and association event planners from Australia, New Zealand, China and Singapore arrived on the Gold Coast last Thursday for the Gold Coast Tourism Corporation's inaugural This is Gold Coast Business Exchange.
The two-day business expo and famil experience aimed to connect attendees with local event specialists and provide a first-hand experience of the destination's business events offering.
Highlights of the three day program included Welcome Reception at QT Gold Coast, over 800 pre-scheduled appointments to be held on the exhibition floor at Gold Coast Convention and Exhibition Centre and a spectacularly themed gala dinner at Skypoint Observation Deck. The event culminated in lunch and trivia at RACV Royal Pines Resort, with many attendees electing to stay on for the post-famil that wrapped up on Sunday afternoon.
Gold Coast Tourism Director of Business Events Anna Case said that the event is the result of a collaborative city approach.
Case said, "The Gold Coast a leading business events destination, This is Gold Coast Business Exchange is an opportunity to showcase what we can deliver. Through overwhelming support from local industry we've worked together to pull out all the stops.
"Flexibility and creativity will be on display at the exhibition through inspired design and adept use of space. The program is also peppered with a number of surprises including unconventional transfers by land, sea and air.
"Through first-hand experience of our extraordinary service levels attendees will walk away confident that the Gold Coast has everything you need to deliver spectacular, seamless business events."