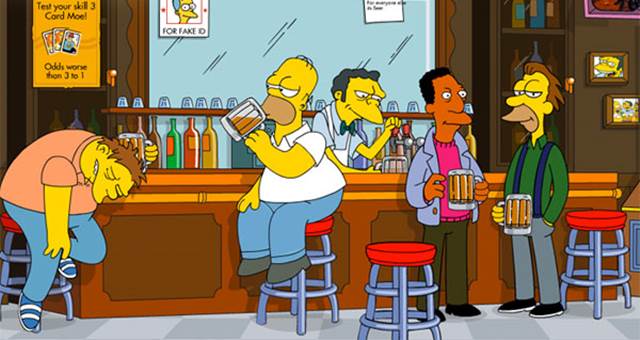 To celebrate the arrival of Duff Beer in Australia, the Woolloomooloo Bay Hotel has been temporarily transformed into a replica of Moe's Tavern – Homer Simpson's favourite watering hole.
As well as Duff Beer on tap, the pub will be dishing up Duffalo Wings, Lard Lad Donuts and the legendary Krusty Burger, giving Sydneysiders a real taste of Springfield.
The VIP launch on Thursday night was hosted by X Factor presenter Luke Jacobz, and featured Duff girls handing out the brew to happy guests – but no sign yet of Duff Man.
While counterfeit and imitation brands have been on and off the shelves for years, this is the first official Duff Beer with Matt Groening's stamp of approval. The rights were obtained by ALH Group (whose majority shareholder is Woolworths Limited) after agreements with The Simpsons creator and 20th Century Fox. Ian Kingham, merchandise manager of ALH, told The Shout that on top of Duff Beer's 'good novelty value', the group wanted to produce a quality brew.
"We needed to make sure the beer would stack up. It's a perfectly good lager," he said.
Sydneysiders can try Duff Beer on draught from Moe's Tavern at the Woolloomooloo Bay Hotel from May 23 to 30. For the rest of Australia, Duff Beer hits the shelves of BWS and Dan Murphy's on May 28, retailing at $45 a case.