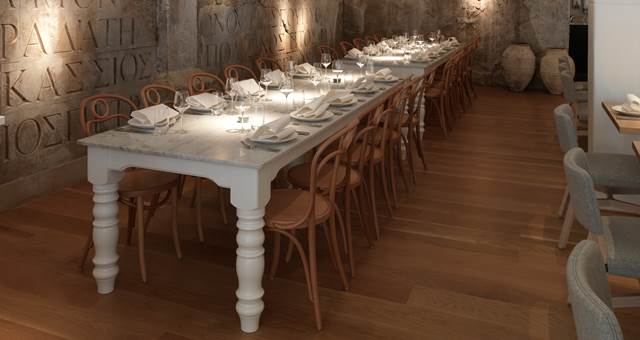 Located at the old Hellenic Club on Sydney's Castlereagh Street, Alpha Restaurant has a few hidden event spaces that are truly unique.
With a modern Grecian interior created by designer Paul Papadopoulos, the space is light and airy with a hint of ocean.
In addition to the main dining room that seats up to 170 people, the restaurant has a private dining room with a separate entrance off to the side that seats 32 guests and there is also a large event space upstairs that is currently being used as exhibition space. This raw room has exposed beams and concrete and has hosted fashion shows and shoots. The venue will develop it further in the near future but at present, it provides an industrial, theatrical space for events that don't need a lot of amenities.
Beside the main dining room, Alpha also has a food emporium that stocks an extensive range of products straight from Greece and a cafe, cantina and meze bar dish up affordable sharing plates and Greek wines.
Alpha Restaurant is located at 238 Castlereagh Street, Sydney.