Bring the magic of the movies to your next event at HOYTS.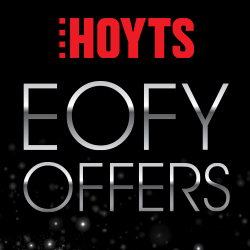 Entertain your colleagues and guests between June & July to gain full access to our fantastic offers.
Are you looking for an innovative & exciting new way to entertain colleagues and guests this year? Hold your event at HOYTS between June 1 & July 26 to gain full access to our fantastic offers, including discounted venue hire rates, F&B upgrades, Harvey Norman Gift Card giveaways & more!
Inspire your staff this year with our state of the art venues, ideal for corporate events such as private movie screenings, product launches and conferences, venue hire, staff parties & events and training seminars.
Treat your guests to a bar and dining experience at HOYTS LUX – Australia's premium cinema experience. Guests can enjoy a first class bar experience, an outstanding gourmet food and beverage menu, and the latest movie blockbusters in total comfort. The venue offers in-cinema service at the touch of a button, powered recliners, and a brand new menu designed by Chur Burger.
Book your event today & find out more about our hot deals. Click here for more details or email Steph at corporatesolutions@hoyts.com.au