Ideal for keeping your audience on the show floor, and with all the benefits of sound proofing, a marquee might be your ideal seminar space solution!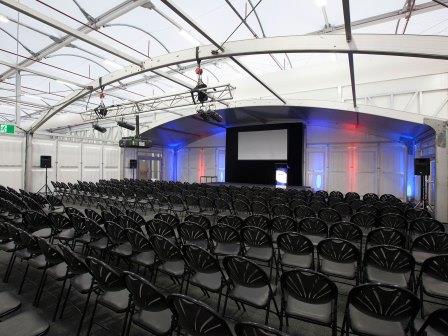 When seeking a unique seminar space idea – be sure to see the latest work by Moreton Hire, who recently used one of their marquees within an exhibition hall!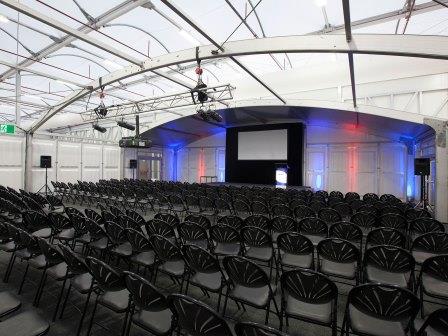 Ideal for keeping delegates on the show floor, and with all the benefits of sound proofing, a marquee can be branded to your event or sponsor's needs. From the walls to the roof, you can brand the entire structure for maximum impact.
Available nationwide, and in various shapes and sizes, a marquee on the exhibition floor might be the right solution for your conference or theatrette needs. They look clean and are seamless amongst exhibitor stands to ensure the overall look of the show is not interrupted.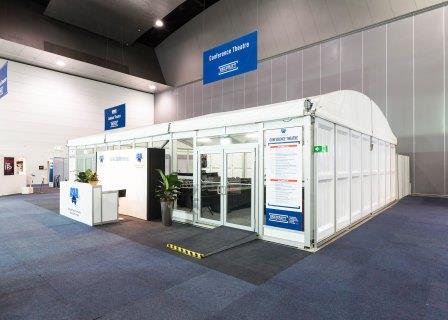 The space is ideal for audio visual and lighting requirements, not only for rigging purposes, but also for black out and restricting noise for presentations and talks. Conveniently, it can also be adapted for VIP events, act as a café or possibly host a post-show function. Adding a unique touch to your event.
For more information, contact your local Moreton Hire team on 1300 360 424 or www.moreton.net.au for further inspiration.
As national suppliers and market leaders with over 45 years' experience, Moreton Hire has Australia's largest, most expansive and diverse range of Business and Special Event products and services.