Moreton Hire's Exhibitor Look Book is the must-have guide for anyone looking for exhibition inspiration.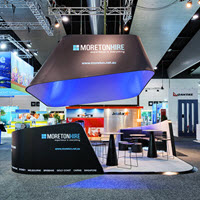 Moreton Hire has recently launched a handy tool for anyone looking for exhibition inspiration.
The Exhibitor Look Book is a portfolio jam-packed of ideas to give any space a lift no matter how big or small. From signage and furniture to audio visual and design, the book is designed to take the complication out of exhibiting while providing the latest in exhibition and conference fit out ideas.
National Exhibition Manager at Moreton Hire, Kevin Smith, said one of the challenges with exhibitions is how to consistently create new and engaging spaces for delegates to do business.
"Part of the art of connecting people is coming up with new ways and ideas that will offer delegates an experience to remember," he said, "This tool is designed to give exhibitors a starting point while helping organisers lift the overall look and flow of their show."
Conveniently the guide can also be used as a step-by-step manual for exhibitors who are coordinating their booth requirements and need a simplified way to manage their needs.
For your copy of The Exhibitor Look Book contact your local Moreton Hire team on 1300 360 424 or www.moreton.net.au.
Alternatively visit Moreton Hire at AIME2016 on stand 1522.