With dynamic spaces, delicious menus, accommodation and virtual reality tours – Watsons Bay Boutique Hotel showed off exactly why they are the ultimate seaside conferences and events destination at their recent showcase.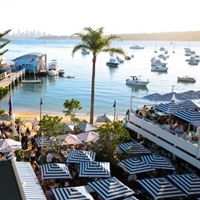 This Autumn, Watsons Bay Boutique Hotel showcased what makes their conferences and events so iconic. Located only 11 kilometres from the Sydney CBD, guests discovered just how close the venue is to the city, with many enjoying the 15 minute ferry ride across the gorgeous harbour from Circular Quay to the exclusive enclave of the naturally stunning Watsons Bay.
Waterfront Spaces
Guests enjoyed a tour of the venue's multiple spaces including the Sunset Room, Harbour View Conference Room, Top Deck, Mid Deck and boutique Accommodation rooms. Showcasing the capacity to host Conferences, Weddings, Team Building, Social Dinners, Dancefloors and more. The venue demonstrated a strong versatility that never compromises quality, but supersedes it.
A Gourmantic Affair
The Executive Chef showed off the very best fresh, seasonal produce that Watsons Bay Boutique Hotel is renowned for. A staple of the Events menu, Experience Stations are visually stunning and offer interactive live experiences with chefs. Displayed (and devoured) at the showcase was the Antipasto, Charcuterie, Cheese, Oyster, Seafood and Sushi Experience Stations, as well as the theatrical Paella Experience Station, a crowd favourite that is cooked from scratch in front of guests.
Whilst the Premium Events Beverage Package covered all bases, Watsons Bay Boutique Hotel set the Bar higher adding on their unique bartending twists. The elegant Piper-Heidsieck Champagne Experience Station had guests clinking glasses of bubbly between sips of cocktails made fresh to order by a private bartender at the Spirit Experience Station (featured cocktail was the Boaty McBoatface).
EOFY Specials
Watsons Bay Boutique Hotel has HUGE discounts available for EOFY Conferences and Events. The venue invites you to contact the Events team on (02) 9337 5444 or events@watsonsbayboutiquehotel.com.au  to learn more.
Tip: Take a Virtual Tour on the website to experience how exceptional a Watsons Bay event can be.
Watsons Bay Boutique Hotel
1 Military Road, Watsons Bay NSW 2030
Events Team
02 9337 7411
events@watsonsbayboutiquehotel.com.au