For an unforgettable dining experience, treat your guests to a slice of North Africa at the up-and-coming restaurant, Moorish Blue.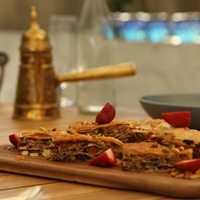 Moorish Blue offers a unique, elegant and inspiring venue to delight your guests. With packages including venue hire, use of audio visual and equipment and personalised menus, Moorish Blue meets all your needs to host the perfect function.
The 120-year-old Heritage building, located just 500 meters from North Sydney Station, has been transformed into a North African haven. This three-level property boasts many artistic spaces, which has been designed top to bottom by their in-house artist. Original artwork is displayed on the upper level in the sumptuous Ottoman Lounge and Bar, as well as the murals in the Oasis Garden on the lower level.
It's not only the artwork that is stunning; Moorish Blue showcases the talent of the chefs and the fresh, flavoursome and generous meals they create. There is something for everyone on the menu of modern Northern African dishes (including those with special dietary requirements).
Step through the beautiful blue entrance to another world, and enjoy excellent service from the friendly and professional team at Moorish Blue. Owner and head chef Jamil will tailor-make the menu to suit your guests. With true hospitality of Tunisia, an experience at Moorish Blue will exceed your expectations.
Visit the website to find more about packages and for a peek of the exquisite venue itself.
W: www.moorishblue.com.au
T: (02) 9929 8252
E: jamil@moorishblue.com
Follow Moorish Blue on Facebook, Instagram and Twitter.