Staging Connections Digital Sets will transform any venue, ensuring your brand and key messages have a long lasting impression on attendees.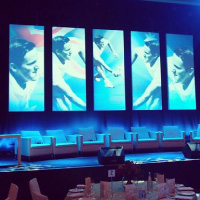 Digital video technology means that your event can benefit from the same attention-grabbing visual techniques that wow Broadway audiences. Theatrical sets combine clever engineering with limitless imagination; taking audiences on a journey. With the right digital content, your brand and message can fill screens, dance across walls and create long-lasting impressions for your event attendees.
Staging Connections' Digital Sets combine digitally created graphic content with world class technology and expert know-how to enhance any event space.
A Digital Set can be any combination of static, animated or video content displayed on screens, projected on surfaces or animated across LED lighting fixtures. With one projector you can present an animation on a central screen while projecting static branding on two peripheral screens.
Designing the digital sets to match and enhance the message of your event is critical. Staging Connections team will review your speakers PowerPoint or keynote presentations as a starting point and work through them picking out themes, selected static or animated visuals, and highlight the most important sections with visual markers.
Whilst you don't want to divert attention from your speaker presentations, there are several natural breaks in proceedings like introductions, walk- ups and speaker changes where the whole Digital Set can be used to entertain the crowd. An image can traverse the room making heads spin, lights can illuminate from the ground up or fire can rise from every corner of the room! Staging Connections ensure these transitions are precise and then bring the focus right back to the speaker.
Further benefits of using Digital Sets:
If your event is travelling, you can take the digital set with you, adapting it to fit the new venues.
Continue the life of the event, using multimedia elements in post event emails and video highlight packages.
From small function spaces to mammoth ballrooms or gala centres; Digital Sets will have a huge impact no matter what size the venue is.
Company contact details:
www.stagingconnections.com
T +61 2 9556 8888
F +61 2 9818 3703
info@stagingconnections.com