Hunter Valley conference delegates to join ancient harvest traditions during the Food and Wine Festival, this May and June.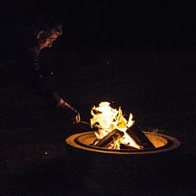 Following its inaugural first year, conference guests again at the major event properties in the Hunter Valley will take part in a free, ancient harvest tradition this May and June to symbolically burn disappointments of the previous financial year and ignite goals for the next.
Celebrated at vintage time in European vineyards since ancient times, the Burning of the Vines ritual celebrates the end of the wine harvest and pruning and the start of a new season and budburst, with grapevine cuttings burnt in huge bonfires to symbolise rebirth.

As part of the Hunter Valley Wine and Food Festival this May and June, conference delegates at accommodation properties in the region will receive a vine cutting on event arrival with an attached blank card for them to write what they want to turn their back on from the past year and what hopes and aspirations they have in the corporate and personal world for the coming year. Before dinner, guests then throw their cuttings and cards into a bonfire or a fire pit at the property to farewell the old and toast the new.
Larger groups can also have Hunter Valley winemakers come and address the group during this Burning of the Vines to talk more around the significance of the ritual and the cycle of vintages in the Hunter. Or of course don't forget the symbology of burning away pasts and prepare for the future with a motivational guest speaker pushing the team to renew.

Mercure Resort Hunter Valley Gardens provides the complete conference destination in the heart of the Hunter Valley. Whether it's for 2 or 300 delegates we will tailor your conference to suit your needs. Our Conference and Function Centre provides comprehensive, first-class facilities and a venue which suits any occasion; gala dinners, special events, sales presentations, conferences, training seminars and product launches.
The Burning of the Vines experience is a complimentary, add-on activity that applies to all conference bookings made for May and June 2017. Contact our Events Team on (02) 4998 2000 or events@mercurehuntervalley.com.au and start planning for winter.