Watch a space transform before your eyes, learn to think differently and be inspired at Melbourne Convention and Exhibition Centre's free annual event Open Space held during Business Events Week.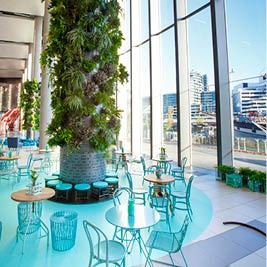 Hear from two remarkable thought leaders who will change the way you connect with people through events at Melbourne Convention and Exhibition Centre's (MCEC) third annual Open Space event on Thursday 26 February 2015.
Find yourself immersed in a creative space that is designed to make you think outside the box. Chat with like-minded people from the industry and enjoy a complimentary taste of MCEC's award-winning food.
Open Space 2015 is all about innovative design, technology and its application in the modern world.
2015 speakers:
Global thought leader on the power of collaboration and sharing through technology to transform the way we live, work and consume.
A true evangelist in today's disrupted world and a globally recognised digital strategist, technology futurist and progressive business thought leader.
To register for your free ticket or for more information visit openspace.mcec.com.au
Open Space is MCEC's free public event, held during Business Events Week and the Asia-Pacific Incentives and Meetings Expo (AIME).