Hibernation is overrated. Celebrate winter at Watsons Bay Boutique Hotel for $80 pp* and enjoy a private space, canapés + drinks. Host before September for a free Piper Heidsieck magnum!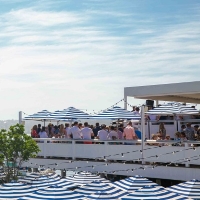 This winter it seems Sydneysiders have enjoyed the best of both seasons – with Sydney keeping up the sun-drenched days, bringing in those glorious winter sunsets and cosy feelings we love! To celebrate the golden days at play our friends at Watsons Bay Boutique Hotel are offering a dazzling winter event offer perfect for birthdays, engagement parties, anniversaries, or if you just fancy some bubbly, seaside!
Everyone knows that champagne tastes best with a water view so to make the winter events offer really *POP* book and host your celebration before August 31st 2017 and you'll receive a FREE magnum of Piper Heidsieck Champagne*.
Winter Events Offer inclusions
4 hour beverage package
Includes Sparkling, White & Red Wine, Beer, Soft Drink + Juice
6 piece canapé package
Includes Crispy Chicken Lollipops, Portobello Mushroom Arancini, Lamb Kofta, Chilli Salt & Pepper Prawns, Mini Pork & Fennel Sausage Rolls and Smoked Salmon Fish Cakes.
Exclusive event space with cocktail waiter service
Access to the in-house music system
Discount on purchases of Piper Heidsieck Champagne 750ml
What's the Catch?
Subject to availability. Bookings in July or August 2017 only. Monday to Saturday bookings between 12pm-4pm or 6pm-12am. Sunday bookings between 11am-3pm or 5pm-10pm. Monday to Thursday – minimum bookings of 50 people.  Friday to Sunday – minimum bookings of 80 people.
With waterfront event spaces and a tranquil setting, Watsons Bay Boutique Hotel is a premier spot for celebrations. Located in an exclusive bay with Sydney Harbour lapping at its sandy shores, the venue is just 11kms from Sydney's CBD and accessible via a raft of transport options, including a 15 minute ferry from Circular Quay. Let's talk about the menu! Curated by award-winning Executive Chefs and inspired by the venue's seascape, it's worth ordering one of everything from the modern Australian kitchen especially when the Event Coordinators can tailor a bespoke foodie fantasy for your event including; BBQ's, communal feasts, sit-down courses or experience stations. There are a lot of options, but we think you're in good hands starting with the 6 piece canapé package included in the Winter Events offer.
Delicious canapés, free* bubbly and Sydney's best water views – we'll toast to that! Read more about the offer on the website, and get in touch with the venue's friendly Event Coordinators to start designing your winter soiree.
Company Contact details:
www.watsonsbayboutiquehotel.com.au
Watsons Bay Boutique Hotel
1 Military Road, Watsons Bay NSW 2030
Events Team
02 9337 5444
events@watsonsbayboutiquehotel.com.au