Cheer the Maroons on to 8 wins in a row with the Queensland supporter's pre-Origin function hosted by Gary Belcher.
Queensland supporters pre-Origin function – a hub for Queenslanders when the Queensland Maroons hit NSW for State of Origin 2013.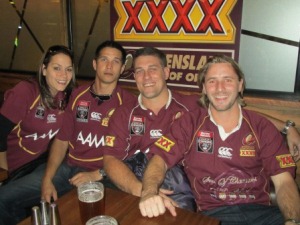 XXXX Gold & Maroon Crusade is proud to present the Maroon Crusaders' Queensland Central State of Origin pre-game party, right next to ANZ Stadium. The all-ages event will be hosted by former NRL great and Queensland FOGS Gary Belcher, with live entertainment, player appearances, giveaways, and a Maroons highlight reel playing throughout the night. Your $15 ticket includes entry to the party, a complimentary drink (XXXX Gold beer, soft drink, or water)*, and pie. Entry is free for children under 12 years (complimentary food and beverage not included with free entry). Queensland Supporters Bay ticket holders can also pick up their Queensland supporters merchandise from a pick up zone here.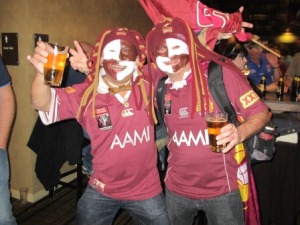 The best State of Origin warm up for Queensland fans is right here at Allphones Arena. Purchase your tickets today and prepare to cheer Queensland on to 8 in a row! #QLDDomin8
A donation will be made to FOGS' Charities Fund from any proceeds from the night.
Join Queensland's Maroon Army –
facebook.com/maroonarmy
* You must be 18 years or older & produce ID at the bar.
Contact: Louise Ruxton Call – (02) 8765 4375 or 0418 288 038 email – lruxton@allphonesarena.com.au