1 Day Workshops for Event Professionals – Update and upskill with ACEM. Covering topics across the Events Industry, ACEM offers it's 2015 1 Day Workshop series. Create your own customised program, broaden your expertise and take your events to the next level.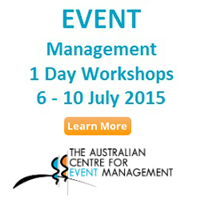 Learn from national and international event industry experts as Australian Centre for Event Management – ACEM offers its Event Management 1 Day Workshops from the 6th July until the 10th July at the UTS Haymarket Campus, conveniently located in the heart of Sydney.
These innovative workshops cover a diverse range of skill and knowledge areas, allowing multiple workshops to be completed over several days. Participants have the flexibility to create a tailored program of their choice.
For further information or to enrol see 2015 Event Management 1 Day Workshops Brochure.
You can also visit http://acem.uts.edu.au or contact the ACEM office direct acem@uts.edu.au or (02) 9514 5156.