Desperate for something fun, unique, memorable and educational at your next board meeting, conference, gala dinner or any other event?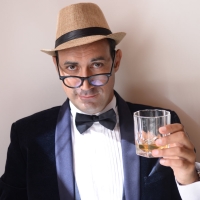 Sam McCool has made a living pretending to be other people…mostly when he had 'day jobs'. Thankfully, he is still sufficiently infamous enough to fly under the radar as a corporate hoaxer! Now he offers the same to you.
Previously Sam has performed hoaxes pretending to be:
an expert 'Futurist Fashionista' in the Fash-Tech industry;
a CEO of an Artificial Intelligence/Business Analytics firm specialising in Big Data,
a Cross-Cultural consultant from head office in India,
a Greek Cultural Attache for a Financial Services firm offering a keynote about the Greek Economic Crisis,
and a Political Analyst called Clint Trumpton during the US Presidential Election, plus many more.
If you have an idea, or an event you want to spark up, speak to Sam directly about the myriad of ideas he has to engage with your audience well into the future!  He's on-trend & in-demand!
About Sam – In 2016 MC, Comedian Sam McCool sold-out shows at Sydney Opera House, completed a World Comedy Tour, and published his original play 'Lighten Up'. Now, he'd love to make you his next client, so for the first 2 bookings from this What's Hot ad, quoting code HOAX2017, he's making a special offer – FREE phone or face-to-face consultation on your Hoax idea.
This means Sam will spend time with you brain-storming & work-shopping your event idea to ensure it's creative, enlightening, entertaining and most of all memorable! For a significantly BIGGER presence in 2017 contact him below:
Contact: Ph: 0404 350 025
Email:  sam@sammccool.com
Web:  www.sammccool.com
Bio:  http://www.sammccool.com/bio/
YouTube:  https://www.youtube.com/user/thesammccool