AV1 recently floated a team member up into the sky for a product launch.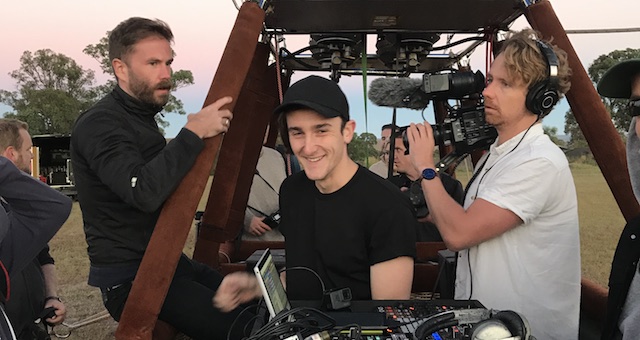 AV1 recently floated a team member up into the sky for a product launch.
The client came up with the concept and the AV1 team brought it to life, all the while ensuring everyone involved remained safe given the risks in combining flight, fire and technical equipment.
The event was designed to launch a new product and involved a DJ playing live music from the hot air balloon that was filmed with drones and streamed live to an audience in another location.
But after the butterflies settled and planning begun, AV1 took a step back to evaluate the safety risks.

"It's something we do for all of our events, but is especially important for out of the ordinary events like this," Keith Wootton, Managing Director, AV1 said.
"AV1's WHS systems and processes are of a world-class standard. We're regularly praised by five-star hotels and convention centres about how proactive we are with safety documentation. Even from Crown Melbourne which is renowned for its demanding safety requirements. One venue described us as having "the best systems around."

"So when an event came around that involved flight, fire and technical equipment, here are the lengths we took to ensure the safety of staff and equipment."
The event
A DJ playing live music from a hot air balloon – filmed with drones and streamed live to an audience in another location. Essentially a floating PA system!
The risks
"Well there's weather for one. The balloon could land in any one of 100 locations based on the weather at the time of landing. So really the event had no fixed location," Tim Cramsie, Workplace Health and Safety Manager, AV1. 
Coupled with the fact there was a diesel fuel generator in the basket powering the equipment – with live flame just above it powering the balloon. Not normally a safe combo!
Then there are potential hazards like unsecured equipment, flight risks… the list goes on.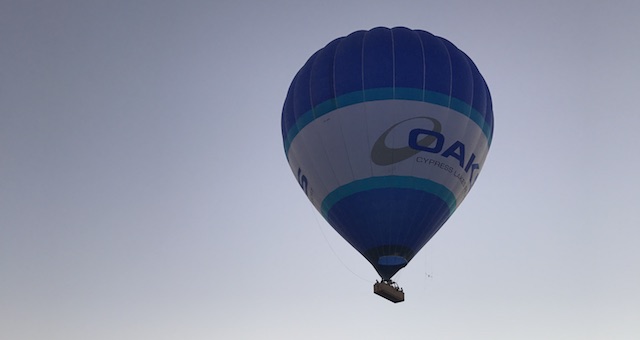 AV1's responsibility
Some might suggest that with the flight being operated by a professional ballooning company, it wasn't AV1's responsibility to ensure the safety of the flight.
But while it was a commercial operation, it wasn't a commercial flight. The passengers were paid employees, not tourists, and there was equipment going in the basket that wouldn't normally.
"As PCBUs* we couldn't make assumptions that they had it all covered. So we requested the balloon operator's standard risk assessment as well as the overall risk assessment from our client and went about conducting our own," AV1's Cramsie said.
"For every event, every PCBU involved has a shared duty to manage safety risks. That means the client, the venue, and all suppliers."
The steps
So to ensure the event ran safely, AV1:
First ensured its AV Operator gave informed consent to go up in the balloon

Sought advice for their standard insurances (Workers Compensation, Public Liability etc.) that they covered this kind of activity (turned out our Workers Comp didn't, so we increased our cover)

Asked deeper questions about the risks involved in this event – consulting with the Balloon operator, their client and all others involved

Established plans for weather contingencies, emergency procedures and first aid

Simulated a 'crash' to ensure everything was secured in the balloon

Ensured everything that was not fixed (e.g. some of the DJ gear) was at a height lower than the basket itself so it couldn't slip out

Adapted their standard risk assessment to the special requirements of this event, adding in specific checklist items to the toolbox talk

Sought feedback on the risk assessment from the client, reviewed it and updated accordingly

Conducted a safety briefing and induction with all Balloon staff, AV1 staff, the client, the DJ and film crew
Overall AV1 compiled 50 odd pages of insurance, safety and risk assessment documentation for this event.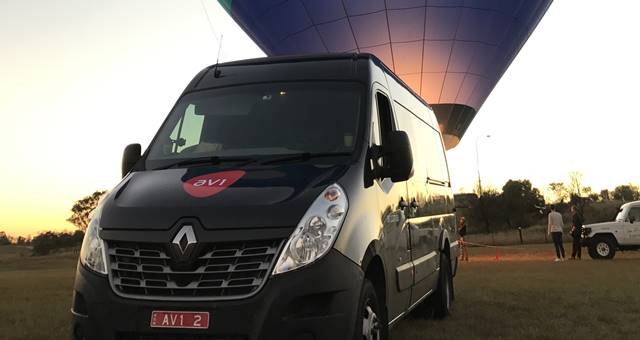 The outcome
"As expected, all went off without a hitch," AV1's Keith Wootton said.
"It was a great result for our happy client and of course our lovely AV Operator returned home safe and sound along with our gear."
"It's not only ballooning events that get this kind of detail. Each event we produce receives an assessment to ensure that we undertake it in the safest way possible. It's essential in today's safety conscious environment. And another area where AV1 is ahead of the game.
*Persons conducting a business or undertaking – a legal term under WHS laws for individuals, businesses or organisations that are conducting business.
For more information about AV1, click here.