Ayana Resort and Spa in Bali offers guests the chance to create their own perfume at their onsite studio.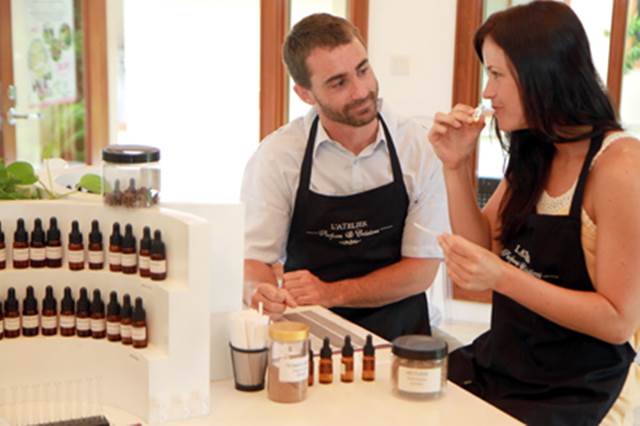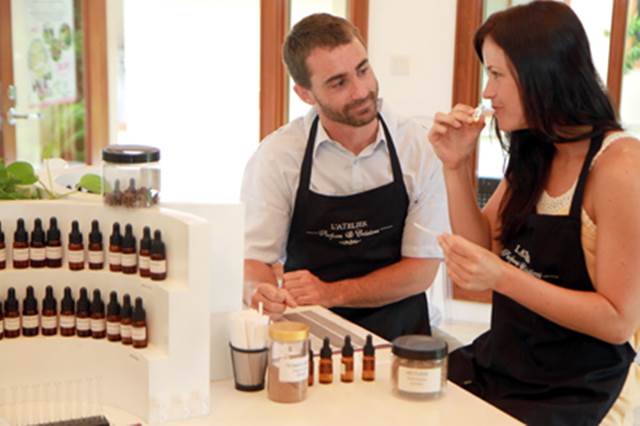 Ayana Resort and Spa in Bali offers guests and conference delegates the chance to create their own perfume at the onsite LÁtelier Parfums and Creations studio.
This workshop, the only one of its kind in Indonesia, follows traditional French processes for creating perfumes unique to each guest and suited to individual personality types. There are some 45 difference essences, fragrances and raw materials with which to create your own blend. These include the most popular choice, frangipani, as well as lavender, jasmine, citronella, coffee, cempaka, vanilla, clove, wood and even civet, the catlike creature whose droppings make the world's most expensive coffee: Kopi Luwak. The children's range includes fun scents such as bubblegum, strawberry, chocolate, and the added visual excitement of glitter.
LÁtelier Parfums and Creations founder Nora Gasparini said, "We do not stock any perfumes in our studio, each guest makes their own and their blend reflects both their personality and their preferences. It is a very special way to take a bit of Bali home with them. It is only available in Indonesia at AYANA."
The first step in making your own perfume is to answer a short questionnaire which determines which personality traits you possess. Are you Different/Eccentric, Sensual, Romantic, Vivifying, Dynamic, Mysterious, Exotic, Masculine or Discreet? The results will point towards three of these adjectives (eg. Different/Eccentric, Dynamic and Discreet) which in turn correspond to specific essences.
The on-site perfumer will suggest fragrances matching your survey results and give you three small test vials in which to make different blends. As you create the blends, you record the ingredients on formula sheets. You then select your favourite and the perfumer will present it in a 30ml bottle with a LÁtelier label inside a leather travel case for you to take home with you, along with a LÁtelier Diploma Certificate.
Workshops are open to guests staying at Ayana as well as those visiting from outside the resort. There are four different  workshops to choose from: a 2 hour perfumery theory and perfume making workshop, a 45 minute perfume making worshop, a 45 minute couples workshop for honeymooners/wedding guests/lovers and a children's perfume-making workshop. In-house guests may do their workshop in the privacy of their room or villa for an additional fee.