The world's largest extended reality experience, GCCECXR, is now available on the App Store and Google Play.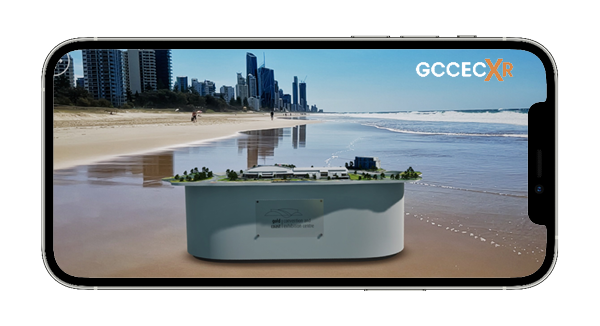 Choosing the right venue for your event in an unpredictable world of border closures, travel restrictions, and constant uncertainty is a daunting task. But imagine being able to visit and walk through Australia's largest regional convention centre, from anywhere in the world, and know exactly what to expect.
The Gold Coast Convention and Exhibition Centre (GCCEC)'s game-changing new app GCCECXR allows you to do just that.
Featuring revolutionary technology which combines real and virtual environments to create an extended reality (XR) experience, GCCECXR allows you to visit the venue on a 1:1 scale in the comfort of your own space. It works by superimposing a virtual model of the convention centre onto a real-world surface through your mobile screen, meaning you can take a photorealistic site tour through Australia's largest regional convention centre from any location.
"GCCECXR is next-level in terms of size and detail, offering event planners the ability to take a photorealistic site visit and explore the venue from anywhere, anytime in such a truly immersive way," GCCEC brand and communications manager Kerri Brown said
Upon downloading and launching the app via Apple or Google Play, you'll get a sense of the centre's location from an aerial view, seeing it situated by the river with surrounding parklands that you can walk around as if in real life.
"The fact that you can walk throughout this colossal-size space, which measures more than 200 metres long, 70 metres wide and 14 metres high, to explore even the small details, makes you feel as though you're actually there."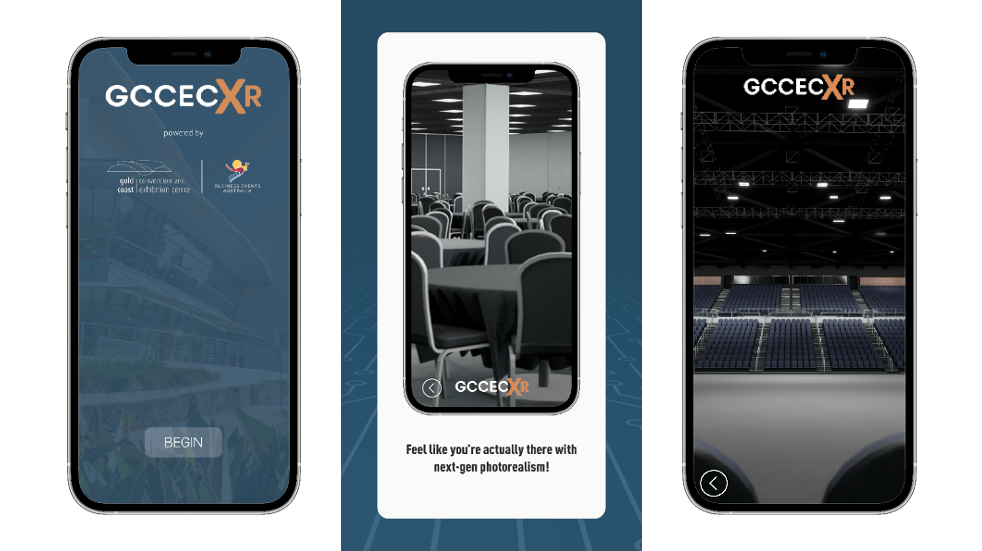 Check out the venue's stunning Broadbeach location, walk around its exterior, and wander through its impressive events spaces. Explore the 6,000-seat arena, the halls in exhibition mode, and the central rooms set up as a gala dinner, as you envision your own event taking place there.
"You have the ability to physically walk up to the centre and view it from every angle, then step inside and explore the different events spaces by simply tapping on the pop-up images."
Developed over 12 months by leading next-gen tech creation company Handbuilt Creative, the impactful GCCECXR app was created in partnership with Tourism Australia as part of its Business Events Boost Program and is an innovative addition to GCCEC's virtual toolbox.
"The response so far has been fantastic, and once people understand what this app offers and how to 'drive' it, it's a lot of fun.
"Most of all, we are incredibly excited to be able to offer a tool that transcends travel and border restrictions whilst giving our clients a real-life experience and confidence that they will get what they see when they actually arrive on site."
Experience the GCCECXR app now, via Apple and Google Play.