Having created events for clients all around the world for more than 30 years, Synergy Effect has evolved its offering, making events without limits a reality.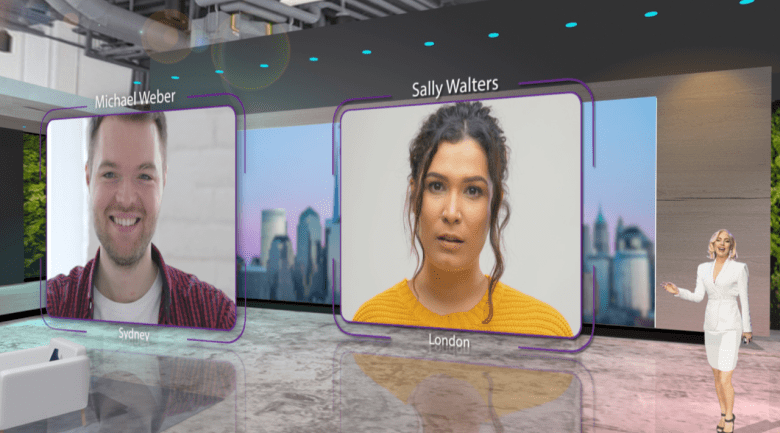 When COVID-19 flipped the events industry on its head, it was clear that while platforms such as Zoom and Teams were fine for the average work meeting, they weren't going to cut it in the events space. Despite the pandemic's challenges and the virtual fatigue we've all become accustomed to, real change and innovation has been long overdue in the business events space. If COVID did us any favours, it put the pressure on to start defining events beyond having everyone together in the same room, at the same time.
Event management company Synergy Effect realised there was a dire need for shifting perspectives around how events are delivered and experienced, and seized the unparalleled opportunity before it. As a result, its e:volve service was born, offering an innovative suite of fully integrated and impactful event solutions.
Having successfully delivered more than 30 hybrid and online events since e:volve's inception last year, Synergy Effect director and partner Ruth Hirst says that the service delivers in three main areas – certainty, scalability, and engagement.
Certainty
With all of the uncertainty around, not having to depend on having everyone physically in the same room gives your event the certainty it will go ahead, regardless of travel restrictions, risk or safety concerns.
"With certainty, we really want businesses to know that they can deliver their message and get the traction they need from their people, by delivering on time as per plan and not being pushed out due to border closures and restrictions," Hirst says.
Starting from a place of certainty means dates can be booked, speakers can be briefed, and guests can be invited.
Scalability
While face-to-face events are powerful and it's great to get everyone together if you can, e:volve's virtual and hybrid events are able to reach a lot more people. This means adding in people who can't be there in person as well as including regional centres as contributing venues.
"By delivering real events in an online world, we can increase the audience reach by 10 times or more the audience that would be there in person in one room," Hirst says.
"Not only does this save on money, it delivers the message far and wide so you're reaching people in regional areas as well as internationally at very little extra cost. In fact, your cost per guest actually drops the more you have attending."
Moreover, events that are designed and delivered online link together guests and speakers from anywhere in the world, again saving costs on travel expenses whilst offering access to top industry talent.
"I think that scalability is huge, because if you're launching a brand or product, you are wanting to reach as many people as you can and this way the cost per guest is the same regardless of where they are."
Engagement
According to Hirst, delivering an online event journey that resonates with the audience is crucial in creating impact and achieving the desired outcomes. Ultimately, this all comes down to the engagement factor, but as Hirst points out, this often runs this risk of being dry and non-engaging without the in-person experience there to bounce off.
"When you're delivering an online event, the engagement needs to be thought through completely differently – it needs to be snappy and interactive to be engaging," Hirst says. "Give them something that they want to watch, respect their time and focus, and offer them that sense of immersion through movement and TV-worthy content development, as opposed to a bullet point presentation."
When planning for engagement from the start, Hirst says having the audience in mind from the beginning helps define, refine, and visualise what you want them to experience and why.
"With e:volve, we always take a complete approach and start with the guest, putting ourselves in their seats. Then we match up where the client is, what their event is trying to achieve, and what their objectives are," she says.
"Whether it's a product launch, awards, conference, or some other form of strategy, we look at different strategies in how to bring an event to life through a lot more engagement and connection, in order to create the desired experience our clients want their audience to take away and put into action."
One way e:volve does this is by offering custom-created branded sets that give a sense of place to the audience, while respecting the brand's high quality.
"When you resort to doing events on Zoom, you totally lose that integrity around the quality of your message and your product," Hirst says. "So, by designing a stage set or a place that brings the sessions to life through design and movement, you're really engaging your audience in a much more dynamic way."
Another way is by incorporating engagement tools like polling and word clouds where the audience gets to interact and pass opinions back and forth in real time. This creates two-way engagement and inclusivity, which Hirst says results in a lot more buy-in and commitment to the messaging.
"Through e:volve's designed audience experiences, we can create a streamlined and inclusive experience for all guests, where the message sinks in across many audience types all online. People don't want to be spoken at anymore, they want to have more of a two-way engagement, so you've got a speaker line-up, or session design, that's not just using the senior leadership members presenting on stage, but offering a real opportunity to draw in more voices from within the organisation to help deliver that message."
By offering certainty and flexibility, and a richer event experience where more people from more places are included and engaged, the return on investment is far greater for everyone involved. It also builds a stronger, more united culture.
"Even sponsors get deeper audience engagement which leads to more exposure before, during and after the event."
Future evolution
So, what else can we expect in the "evolution" of e:volve's service and event technology? Hirst says we can expect an explosion of more online style innovations, but don't refer to e:volve as a platform – it's a service that just happens to deliver the experience online.
"We are purposely saying it's not a platform, because we use a number of different programs and techniques to bring the event to life where the quality of engagement and brand representation is heightened in very dynamic ways," she says.
"e:volve is really for leaders who want to set a benchmark in strategy and deliver more of a key moment strategy message where they seek buy-in on a yearly or national scale, where they would normally get their people together. We don't see this as a separate option – we're saying get together in-person if you can, and also have very dynamic digital content which builds your library and extends reach and exposure at less cost."
And while there definitely has been a lot of innovation in the online events technology space already, Hirst says the reality is that people are craving person-to-person connection which gimmicky avatars can't replace.
"People are craving to get back to normal, and as humans, building relationships is something we all want to do, which is why we want to be presenting real people, delivering authentic messages in an experience as true to real life as possible."
While the industry continues to innovate and improvise through its current challenges, Hirst is optimistic about the future and wants to see Synergy Effect collaborate with other agencies in support of the industry.
"In light of what's happened to our industry, we want to white label our e:volve service so that we can ultimately see our colleagues benefit in this environment and still deliver to their clients to bring momentum back to their business and events," she says.
"There's been so much loss of momentum and feeling of progression with Covid, and we just really want to show our commitment to our industry by offering this service to our colleagues for them to be able to produce experiences for their people and their clients that they're proud of."