Smart Light Sydney, launched on Tuesday as part of the Vivid Sydney Festival.
Smart Light Sydney launched on Tuesday as part of the Vivid Sydney Festival. The event, a celebration of light, sound and music, dazzled crowds when it set the city aglow with free light walks and light sculptures around The Rocks and Circular Quay.
The inaugural weekend (May 29-31) promises to attract thousands to the festivals unique events including a celebration of star gazing at Sydney Observatory and a free talk from some of the major artists participating in the inaugural Light Walk.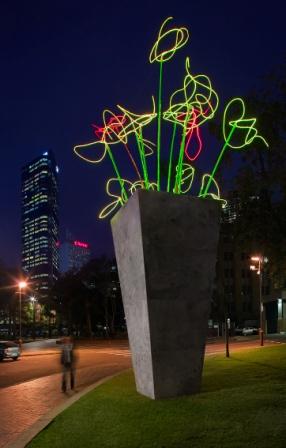 Unique artisit light sculptures attract Sydneysider as part of Smarlight Sydney
Smart Light Sydney highlights this weekend:
Festival of the Stars, Sydney Observatory
When: 6pm to 10pm, Friday 29 and Saturday 30 May
Cost: $17 adults, $10 child/conc, $47 family. Discounts for members. For tickets visit: http://www.sydneyobservatory.com.au/events/festival_stars.asp
What: Showcasing the opportunities for stargazing thanks to reduced light pollution, Sydney Observatory's Festival of the Stars will provide two nights of spectacular sights on the first weekend of Smart Light Sydney
Artist Talk at Customs House FREE
When: 4.00pm to 5.30pm, Saturday 30 May
Where: Barnett Long Room, Customs House
What: Hear from some of the leading local and international artists who have created innovative pieces for the Light Walk in a free talk at Customs House on Saturday 30 May. Artists speaking include Portuguese artist Carole Purnelle, discussing the interactive Human Tiles installation; Ingo Bracke from Germany, creator of Rocklights in the Argyle Cut; Laurenz Theinert, one half of the duo performing the sound and light show Hammerhaus and Smart Light Sydney founder and artistic director Mary-Anne Kyriakou. Be inspired by the artists before heading out to see their beautiful creations for yourself on the Light Walk from 6pm.
Light Walk Guided Tours FREE
When: 6.30pm, 7.30pm and 8.30pm, Friday 29 and Saturday 30 May
Where: Meet at Sydney Opera House forecourt
Join one of our free guided tours of the Light Walk to learn more about the amazing art installations on show, all of which demonstrate smart lighting techniques including clever design, innovative technology, reusable materials, energy efficiency, reduced light wastage and renewable energy sources.
Smart Light Sydney's Light Walk is an all weather event and includes some indoor light art experiences. Vivid Sydney is one of five anchor events in the first ever NSW Master Events Calendar created by Events NSW on behalf of the NSW Government.
For more information on Smart Light Sydney click here.
For the full Vivid Sydney program click here.