Bier lovers turned out in force to celebrate the launch of Pure Bier Fest 2012 at Bavarian Bier Cafe in Sydney last Wednesday
Bier lovers turned out in force to celebrate the launch of Pure Bier Fest 2012 at Bavarian Bier Café in Sydney last Wednesday (2 May).
The festival celebrates the German Bier Purity Law (Reinheitsgebot)- one of the world's oldest consumer laws (legislated in 1516), which declares that pure German bier can only contain four ingredients; hops, malt, yeast and water, and is taking place across all eight Bavarian Bier Cafes in Sydney during the month of May.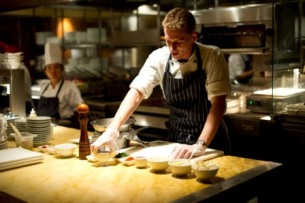 The liquid gold was flowing freely, with guests enjoying a selection of speciality pure biers, including Hacker Pschorr Braumeister Pils, Franziskaner Hefe-Weissbier Hell and Bavarian Bier Cafe's flagship bier, Lowenbrau Original, which translates to 'lions brew'.
Guests feasted on array of delicious canapés, including stuffed baby truss tomatoes; asparagus and black forest ham; spiced beef tartare; roast onion and beetroot tartlet with goats cheese; sage prawn skewers; crisp pork belly; tarragon chicken sausages; shredded beef cheek burgers; and lemon goats' cheese croquettes.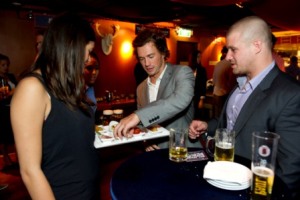 A strong showing of Sydney media and foodies turned out for the festivities, including Lyndey Milan, Tom Steinfort, Steve Burling and Casey Burgess. They were regaled by the encyclopaedic bier knowledge of the 'Bier Professor', Dom Dighton, who was pouring biers and educating palates through his mini bier akademie. The blind 'Taste Test Taste Challenge' pitted Pure Bier against Australian Bier in battle of tastebuds.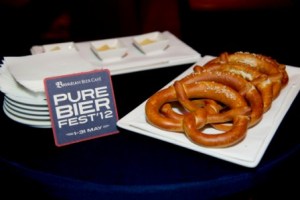 Over the course of Pure Bier Fest, guests can participate in a challenge and earn tallies against their name on their local Bavarian Bier Cafe blackboard. At the end of the festival, the winning man or woman at each location will receive an invitation into the Stein Club, an exclusive invite-only bier club, and the accolade of their name represented on a stein in the venue.