The Media Federation of Australia held its annual awards event at CarriageWorks. Over 700 guests celebrated with outstanding entertainment, food stations and premium cocktail service
The Media Federation of Australia (MFA) held its annual awards event at CarriageWorks on Thursday 20 Oct. Over 700 of the media industry's leaders celebrated excellence as well as enjoyed a night of outstanding entertainment, chef manned food stations, cocktails and premium service.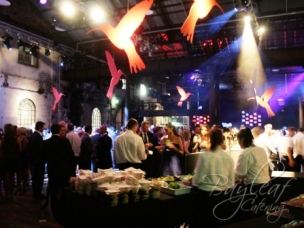 Over 700 guests attended the event at Sydney's Carriageworks.

The theme of this year's awards was Mastery – Pursuit of Perfection which was to draw focus to those in this field who are leaders in media solutions. The MFA Awards showcases the finest thinking and solutions the media industry has achieved in commanding the powerful energies of creativity and sciences.
With a theme of 'pursuit of perfection' a team of people who are leaders in their industries set to create the ultimate awards night. The event was organised by the creative team at Two De Force.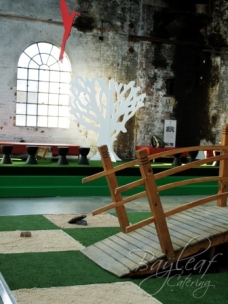 The theming, staging and audio visual were a credit to Rizer.
The dramatic garden party theming, staging and audio visuals were a credit to Rizer. Guests enjoyed a plethora of unique food concepts by Sydney Gold Licence caterers, Bayleaf.
Chris Stubbs heads the Bayleaf culinary team of chefs, production team and creatives who have worked hard to secure this summer's biggest events.
"We've really been pushing to create a new standard for service for Australian events. We've got a world of out-of-the-box culinary ideas simmering and to be able to unleash them at some of the country's biggest and best events has been a real thrill!" said Stubbs. "To have the'sorry we are full' sign out in August for the summer ahead is a dream considering the testing past months in event catering."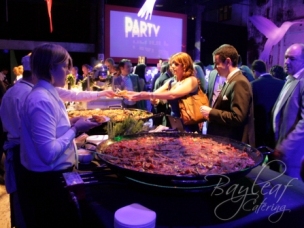 Oversized Spanish paella pans sizzled as guests watched this classic aromatic dish being served by Bayleaf's chefs.

With Bayleaf's passion for food service they are renowned for live chef stations to engage the masses. Guests at the MFA Awards enjoyed succulent spit roasted pork served in soft corn tacos with organic guacamole and green chillies. Behind the scenes the kitchen was pumping preparing a variety of canapés and substantial bites with executive chef Justin Bull at the helm.
Hosted by Sonia Kruger and Andrew O'Keefe with entertainers such as guest DJ Ruby Rose, the VIPs, guests and crew were catered for by Bayleaf's sister company and backstage catering specialists Star Grazers Catering.
The touring team have been accessing all areas and caring for Meat Loaf, Def Leppard, Steely Dan, Motley Crue, Taylor Swift, John Farnham and Harvest Festival in recent weeks and have a busy summer ahead with Foo
Fighters, Big Day Out and Soundwave to come.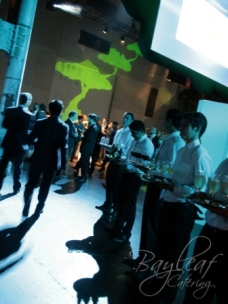 The life of the party was Mondo Bartenders who manned the illuminated bars. Mixing up tasty cocktails such as the Martini Royal, dishing out super cool drinks and providing bar service with flair on the hottest night out for the media industry.