Meetings and Events Australia (MEA) recognised and rewarded the industry's top performers at their annual gala dinner National Awards night held at the Adelaide Convention Centre
By Gwen O'Toole
Meetings and Events Australia
(MEA) recognised and rewarded the industry's top performers at their annual gala dinner National Awards night held at the
Adelaide Convention Centre
on April 7 (Tuesday.) The event, with it's wine themed dress code of red, white or sparkling, recognised industry best practice and winners were selected from the ranks of winners of State and Territory MEA awards following a judging and submissions process.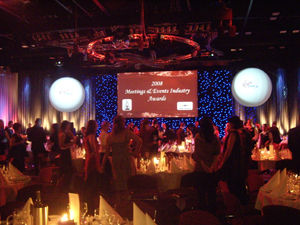 Inside the Adelaide Convention Centre for the 22nd Annual MEA National Awards
The gala dinner, was the finale event of the 22nd MEA conference.
South Australia was a top performer taking out three much sought after awards for the evening including the Adelaide Convention Centre winning for Meeting Venue over 500 Delegates and two Corporate Social Responsibility awards, Adelaide Expo Hire took the award for best meetings and events support services and Event Planners SA's Brylee McFarlane was noted as the 'YMEA Future Leader of the Year.'
Also at this year's event two 'Hall of Fame' inductees were announced. The Hall of Fame Award applies to members who win the same award for three consecutive years. This year saw Tour Hosts inducted for Meetings Management – 8 or more employees as well as Special Event Organiser, Great Southern E-vents.
Complete award recipients follow:
Meeting of the Year – More than 500 delegates- Tour Hosts Pty Ltd
Meeting of the Year – Less than 500 delegates0- Event Planners Australia
Special Event of the Year- Limelight Events for The ANZ Breakout Festival Grand Finale Event
Exhibition of the Year-Melbourne Convention + Visitors Bureau
Reed Exhibitions, for AIME
Incentive of the Year- Tour Hosts Pty Ltd
Public Event of the Year- Peter Jones Special Events for the Victorian Australia Day Celebrations
Meetings Management – 8 or more employees-Tour Hosts Pty Ltd
Meetings Management – Less than 8 employees- The Forum Group
Special Event Organiser-Great Southern E-vents
Banqueting & Catering-Melbourne Convention and Exhibition Centre
Technical & Creative Production- Solution RED
Transportation and/or Travel Services- Murrays Coaches, Buses & Limousines
Meetings & Events Support Services-Adelaide Expo Hire
Meeting Venue – More than 500 delegates-Adelaide Convention Centre
Meeting Venue – 150 to 500 Delegates-Radisson Resort Gold Coast
Meeting Venue – Less than 150 delegates- University of New South Wales
Specialty Venue- The Mint
Operations Person of the Year- Chris Connelly, Melbourne Convention and Exhibition Centre
Sales and Marketing Person of the Year-Donna Kessler, Tourism Portfolio
Meetings Manager of the Year0-Jan Shaw, Event Planners Australia
Y MEA Future Leader- Brylee McFarlane, Event Planners Australia
Metropolitan Convention Bureau/Tourist Organisation- Melbourne Convention + Visitors Bureau
Regional Convention Bureau/Tourist Organisation- Newcastle Visitor & Convention Bureau
Corporate Social Responsibility Award – 1-5 full time employees- Great Southern E-vents
Corporate Social Responsibility Award – 6-30 full time employees- WALDRONSMITH Management
Corporate Social Responsibility Award – More than 30 full time employees- Adelaide Convention Centre
Platinum Award –Incentive of the Year, Tour Hosts Pty Ltd
The Platinum Award is awarded for the highest overall point score gained by a national winner
Outstanding Contribution Award –Geoff Donaghy, Group Director Convention Centres AEG OGDEN; Chairman of Business Events Council of Australia (BECA);
Vice President International Association of Congress Centres (AIPC)
This award recognises the value of an outstanding contributor to the Meetings and Events Industry