Over 800 industry representatives attended a test event at ICC Sydney last Wednesday night.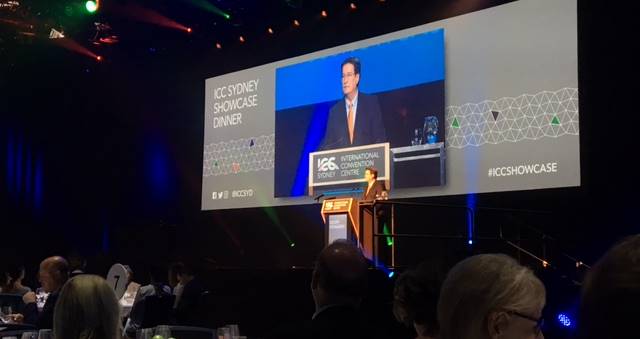 ICC Sydney CEO Geoff Donaghy welcoming guests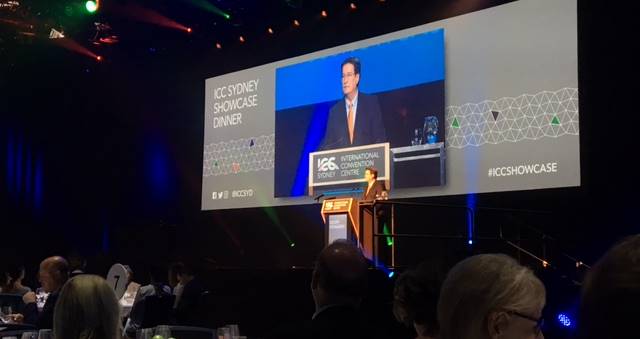 Over 800 industry representatives attended a test event at ICC Sydney last Wednesday night.
The feedback from the showcase was resoundingly positive, with many attendees jokingly asking ICC Sydney representatives whether they might consider making it an annual event.
Attendees enjoyed a five course banquet inspired by ICC Sydney's industry leading Feeding Your Performance philosophy, designed to fuel both body and mind.
ICC Sydney CEO Geoff Donaghy said, "The Showcase Dinner was a fantastic success and I would like to thank everyone who attended and congratulate all of the staff, performers and partners who made it possible. This is a crucial stride in ensuring our team and venue meets our industry leading benchmark ahead of ICC Sydney's official launch this December.
"I am looking forward to seeing the precinct in full action and am pleased to say that we have an impressive array of secured events – from performances by international superstars like Keith Urban and PJ Harvey, to business events with the World Accountants Congress and International Bar Association," he said.
Tourism Australia's Executive General Manager of Events, Penny Lion, said, "ICC Sydney is a $1.5 billion venue, and from what I've seen, it's money well spent. The precinct will become a hub of activity and the flow on effect for the travel and tourism industry will be extremely positive."
TV personality and Chef, Lyndey Milan, commented,  "I am delighted to see an organisation as large as ICC Sydney sourcing local, sustainable produce and acknowledging the producers who work so hard to provide quality ingredients. It is a wonderful advertisement for Australia and our farmers. Moreover, it is fantastic to see someone like William Wilson, a graduate of the prestigious Court of Master Sommeliers, in charge of ICC Sydney's Wine Collection as he is such a strong supporter of New South Wales and wider Australian wine."
Upon opening, ICC Sydney will offer five star convention and exhibition centres, 8,000sqm of meeting room space, a 5,000sqm open air event deck, and three individual theatre spaces, including the 9,000 capacity ICC Sydney Theatre, that houses Australia's biggest stage area.