Entrepreneurs and organisations will be forced to think outside the box once C2 Melbourne hits Australian shores on 30 November.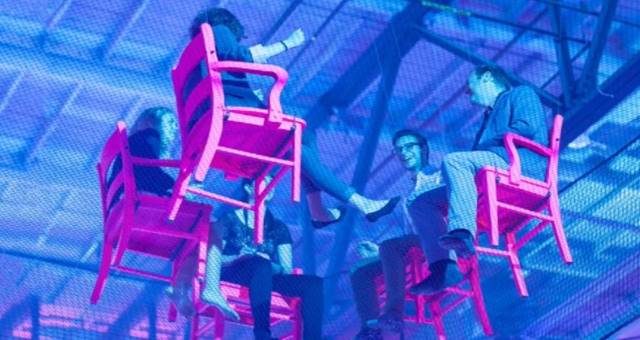 Entrepreneurs and organisations will be forced to think outside the box once C2 Melbourne hits Australian shores on 30 November.
The landmark event promises to propel thousands of participants out of their comfort zones, encourage risk-taking, and give them the freedom to try or fail.
Founded by  Cirque du Soleil, C2 Melbourne will combine talks, workshops, brainstorming sessions, "braindating" meet-ups, performances and festivities to challenge conventions and explore completely new ways of doing business.
Martin Enault, the C2 Chief Operating Officer and Executive Producer, said: "Our immersive experiences are proven to re-energise and re-tool leaders, allowing them to find creative solutions to real-world problems. For C2 Melbourne the theme will be 'ecosystems', and the programming will explore fields like technology, arts and design, media and marketing, impact and leadership."
Not your typical business event, C2 Melbourne delegates will brainstorm while being elevated 18 feet in the sky; and reflect on managing uncertainty while inside a dense cloud of fog with zero visibility.
Confirmed keynote speakers include Emergent non-executive director Holly Ransom; Woods Bagot master planner Nik Karalis; Movember founder Adam Garonel; and Dubai Future Foundation's COO Dr. Noah Raford.
The C2 labs announced are:
NET
Innovation and creativity involve a fair bit of risk-taking. So does the net – literally. While sitting on chairs suspended over a net high above the ground, discover new perspectives on a burning question. Not for the faint-hearted.
CLOUD
Learn to navigate uncertainty. In these changing times, many unknowns cloud our decision-making. We must learn to embrace the chaos and face it head on. In the Cloud, participants engage in a discussion while in a zero-visibility environment: a room filled with dense fog.
BLUEPRINT
Can city planning guide us through the maze that is the modern business world? Faced with a specific business or design challenge, participants are invited to ask themselves: what would city visionary Jane Jacobs do? In Blueprint, we learn to see the world through the eyes of a renowned urban thinker, tackling complex systems one small plastic brick at a time.
CAKE
Busy hands liberate the mind. Whip, whisk and stir, all the while discussing, listening and researching, ultimately taking an active part in building something that everyone will share and enjoy. Over the course of two days, teams will participate in making a giant cake, which will be shared by all attendees at the end of the event.
GARDEN
It takes a bit of wandering to come to our senses. Find a peaceful place amid the chaos of C2 Melbourne by donning earphones and following a thought-provoking path through the event space, all the way to a verdant garden maze. This will be the perfect way to hit pause, take a step back and explore how mindfulness will have an impact on our fast-paced way of working and doing business.
POOL
Take off your shoes and dive in. Have you ever had a meeting while lying with colleagues in a pool filled with thousands of plastic balls? You should try it. Apart from being fun, it levels the playing field, letting the best ideas bubble to the surface. In the pool, a small group of participants splash around while they playfully explore some burning questions with the help of an expert facilitator.