Optus partners with Queen Babs and Art Pharmacy to deliver 'Knit the Campus'.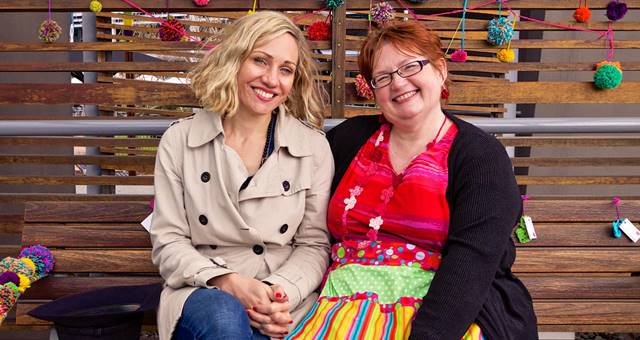 Knit the Campus installation day at Optus headquarters in Macquarie Park.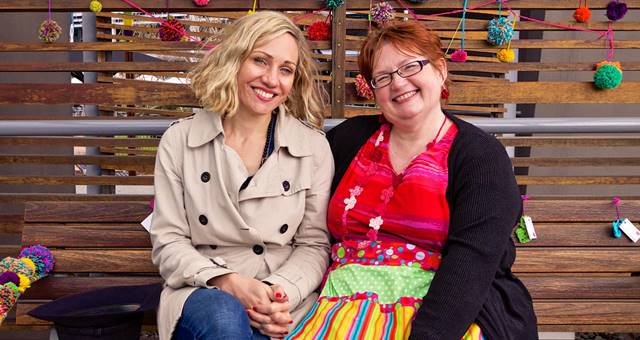 Optus partners with Queen Babs and Art Pharmacy to deliver 'Knit the Campus'.
Optus has redefined the traditional corporate art relationship with the installation of a large-scale 'yarnbombing' in collaboration with Redfern based fibre-artist Jane Balke-Andersen, or 'Queen Babs' as she is more commonly known, and creative firm Art Pharmacy Consulting.
As part of the ongoing Optus Employee Experience programs, which offer the Optus community a broad range of activities at sites across the country, the collaboration with Art Pharmacy Consulting was designed specifically to engage employees in every step of the project.
National manager of employee experience, Andrew Parker, said the Yarnbombing project went beyond the idea of creative projects in the corporate environment.
"At Optus we have a broad range of activities that are available to our people, and it is so important to have a creative element on offer – but with this project we were able to introduce an experienced artist to help bring the project to life. There was always a strong engagement from employees because they were creating the art alongside Jane," said Parker.
"Using our integrated placemaking strategy, we aim to deliver a campus of connections that is colourful, comfortable and inspiring. The participation of more than 70 of our people in this project demonstrates that it has really resonated with them," he said.
The installation, across the Optus Sydney campus in Macquarie Park, is the first corporate project that Art Pharmacy Consulting's Emilya Colliver has undertaken in collaboration with both a visiting artist, and the employees of the company.
"This project is quite different for us, in that we are actively engaging the employees and working with them – generally our projects are created off-site and the only interaction we have with the business is once the work is installed and we see their reaction.
"When you work together the outcome is very different, and we are seeing a movement towards engaging people creatively in the workplace. This is one of the first projects I have done that incorporates employee engagement on such a big scale.
"During the workshops it was great to see people from different departments interacting with each other and strengthening the community within the organisation. Optus is such a large and diverse group of people and for them to have an opportunity to meet each other and work collaboratively is really positive," said Colliver.