Last Saturday night, a 'secret' picnic became the biggest dinner party to be held on Australia's most famous beach.
On Saturday night, a 'secret' picnic became the biggest dinner party to be held on Australia's most famous beach.
This Diner en Blanc phenomenon started from humble beginnings in Paris 25 years ago. What began as a small gathering now attracts tens of thousands of people across five continents and claims the title of the world's largest secret dinner party.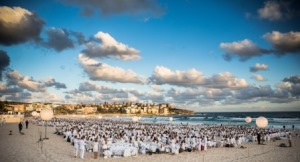 While the technology behind Dîner en Blanc may have changed over the years, the principles fuelling the event have not; diners continue to gather at a secret location for the sole purpose of sharing a high-quality meal with good friends in one of the city's most beautiful locations.
Doubling its numbers from last year's inaugural Sydney event, guests gathered at meeting points all across Sydney to have the secret dinner location revealed to them at the very last moment.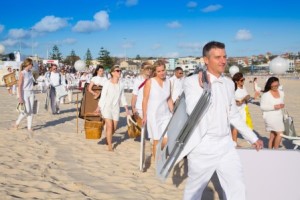 Organiser 8agency's Antoine Bessis said, "The night was a great success with everyone embracing the convivial and spontaneous spirit of Dîner en Blanc. Sydney locals are known for their love of quality food and festive events so we hope to establish a long-standing tradition with the help of our partners Piper- Heidsieck Australia, Treasury Wine Estates and Electrolux."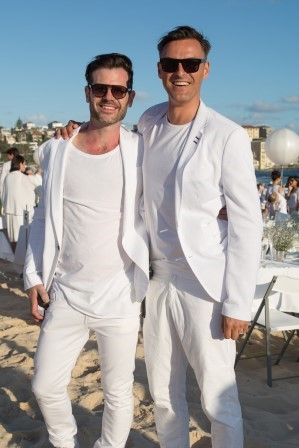 Antoine Bessis co-hosted the event with Barry Wafer from Rizer
Guests dressed in white from head to toe, brought their own food and wine, chairs, fine china, silverware and white tablecloths to create the spectacular white scene on Bondi Beach. Over the course of the evening, the chic picnic-goers dined and celebrated amid live music from DJ's Jimmy 2 Sox, Tim Fuchs and Graz.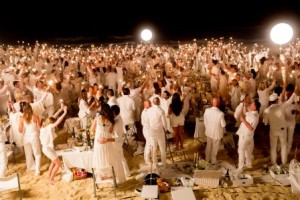 Breathtaking moments included the waving of cloth napkins to mark the beginning of the dinner, as well as the lighting of sparklers signifying that guests were free to circulate, mingle and dance. When it was time to leave, guests packed up their dinnerware and tables, picked up all their litter and headed into the night, leaving behind no sign of their elegant revelry.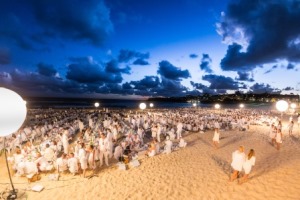 Champagne partner, Piper-Heidsieck installed a Champagne tower, Treasury Wine Estates provided beautiful wines for guests to enjoy and hosted the best centrepiece competition and Electrolux treated guests to complementary canapés cooked on their deluxe mobile cooking pods.
Dîner en Blanc Sydney promises to be even bigger and better in 2014.