Find out which Australian industry leader was named in the Inspirational ICCA Women awards.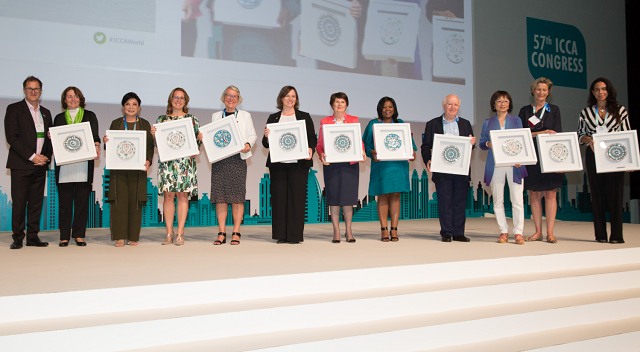 The recipients accepting their awards in Dubai
The 10 recipients accepting their awards at the ICCA Congress
The International Congress and Convention Association (ICCA) has honoured 10 inspirational women from across its global community, shining a spotlight on the contributions of women to the meetings industry.
ICCA president Nina Freysen-Pretorius presented the Inspirational ICCA Women awards at the association's 57th Congress recently held in Dubai.
Freysen-Pretorius is ICCA's second female president and has been in the role for four years. With her tenure finishing this year, Freysen-Pretorius was keen to show her gratitude to her industry partners and acknowledge the "unsung heroes" of business events.
"Through my role as ICCA president, I have continuously sought to champion and encourage the achievements of women in business events," she said.
"Gender equality in the workplace globally remains a challenge with unequal opportunities and remuneration packages a reality.
"Without female role models and champions seen as leaders, presidents and activists as examples, women will not be able to take their rightful place in society at different levels."
Each of the following Inspirational ICCA Women were nominated by ICCA leadership members for their dedication to the industry:
Alice Au, Business Events Toronto, Canada
Anne Wallin Rodven, Honorary Member, Norway
Bettina Reventlow-Mourier, Wonderful Copenhagen, Denmark
Carina Bauer, IMEX Group, UK
Joyce Wittelaar, Rotterdam Partners-Convention Bureau, The Netherlands
Kitty Wong, K&A International Co., Ltd, Chinese Taipei
Maria José Alves, Cascais Convention Bureau, Portugal
Nonnie Kubeka, Gauteng Convention Bureau, South Africa
Roslyn McLeod, Arinex Pty Ltd (INCON Group), Australia
Ulrike von Arnold, Vienna Convention Bureau, Austria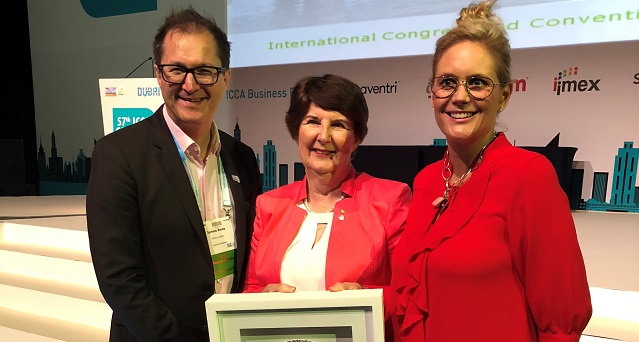 Accepting her award, Arinex founder and chair Roslyn McLeod OAM said it is a humbling experience to be recognised by industry peers.
"I feel extremely fortunate to have been able to attend this global event for so many years and attribute much of my personal growth to networking with so many industry greats in the ICCA environment," she said.
McLeod attended her first ICCA General Assembly in Bangkok in 1985 and has since travelled to 30 destinations for ICCA Congresses. She commenced her honorary involvement as secretary of the Australian Committee in 1987 and went on to serve as a board member of ICCA for six years.
"In a short space of time since receiving this award I have received an overwhelming number of tributes from industry friends and colleagues around the world which has added a beautiful dimension to this accolade for which I am most grateful," she said.
"It is this network of valued colleagues and the camaraderie we share that inspires me and makes us such a great industry."