Look out 2020, Christchurch has big plans for the year ahead.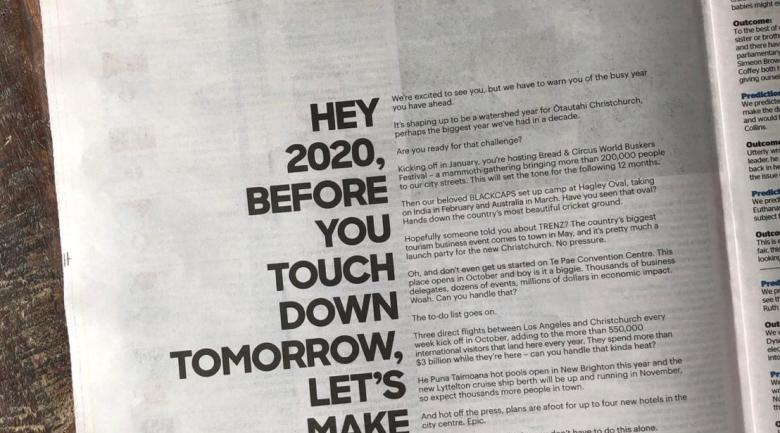 Christchurch takes to local media to warn of its busy year ahead
Christchurch, New Zealand is gearing up for a busy year of events and venue openings, taking to a local paper to "warn" 2020 of the massive year ahead.
In an advertisement published in local newspaper The Press on 31 December, the city's tourism agency, ChristchurchNZ, sent a satirical letter to the year 2020, listing the major events, hotel launches and venue openings in the pipeline.
"Hey 2020, before you touch down tomorrow, let's make some things clear," it read.
"We're excited to see you, but we have to warn you of the busy year you have ahead. It's shaping up to be a watershed year for Ōtautahi Christchurch, perhaps the biggest year we've had in a decade."
The letter went on to mention a number of major events taking place in the city in 2020, such as the Bread & Circus World Buskers Festival bringing more than 200,000 people to Christchurch in January.
"Hopefully someone told you about TRENZ? The country's biggest tourism business event comes to town in May, and it's pretty much a launch part for the new Christchurch. No pressure," it stated in the letter.
Te Pae Convention Centre also got a mention, opening in October to welcome thousands of delegates and inject millions of dollars into the city.
Three direct flights between Los Angeles and Christchurch each week will also kick off in October, and a new hot pools attraction and cruise ship berth are also on the cards.
"And hot off the press, plans are afoot for up to four new hotels in the city centre. Epic," the letter continued.
The letter ended on a humorous note, saying "it's fair to say your plate is stacked pretty high. So, enjoy your last night off. Tomorrow, you're getting to work."
Read the full letter here: