Spice's editor checked in for a staycation to experience the hotel first-hand.
Hyatt Regency Sydney Lobby
It's not often you get to explore the hotels in your city like visitors do, often it's in and out for a conference or event, then back home again.
So when Hyatt Regency Sydney invited me for a staycation, I was quick to accept the offer to experience the property as a guest and eager to explore why it's the conference and event destination of choice for so corporate groups.
3pm: Check-in
Entering the reception area of Hyatt Regency Sydney, instantly the grand, contemporary design welcomes you in off bustling Sussex Street.
Hotel staff offer a friendly greeting and the check-in process is quick and seamless. The large lobby is spacious enough to accommodate groups without feeling overly busy, however if you have a larger group or delegates requiring privacy, the hotel also has a separate, private entrance that's perfect for group check-in away from hotel guests.
Once checked in, make your way up to one of 888 luxury rooms and suites on offer at the hotel. Hyatt Regency Sydney recently completed a multi-million dollar refresh of 649 rooms and 17 suites inside the original hotel building, marking the final stage of its transformation since it relaunched under the Hyatt Regency brand in December 2016.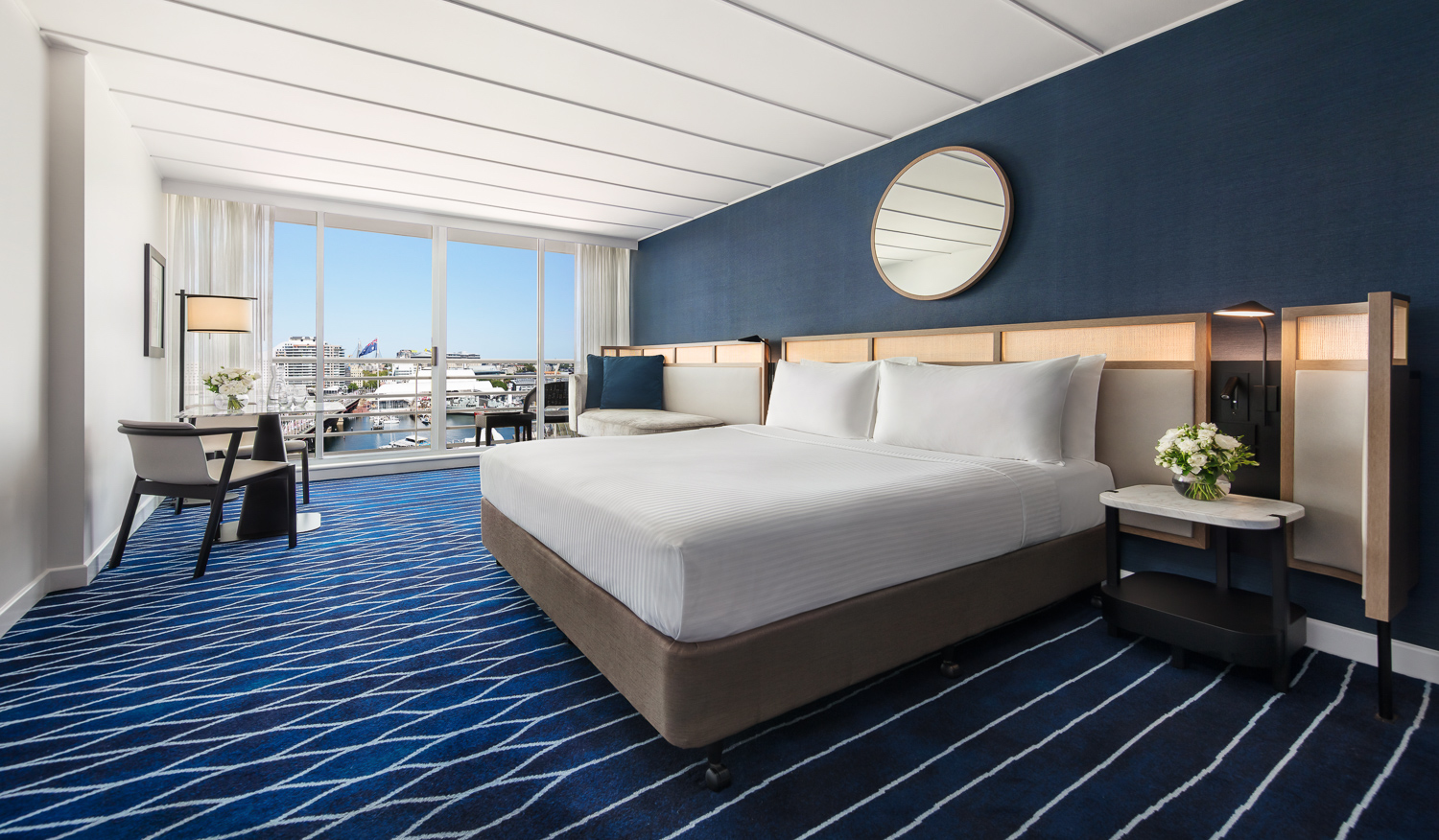 The new rooms are instantly relaxing, with a classic navy, white and natural timber colour palette that reflects the harbourside location and the hotel's nautical history.
At the completion of the refurbishment in late 2020, general manager Jane Lyons said the refreshed rooms elevate the hotel to an even higher level of sophistication.
"It is the final piece of the puzzle of the hotel's transformation into a five-star, premium offering," she said.
Each of the rooms and suites offers free Wi-Fi, spacious bathrooms and luxury amenities, the perfect additions for an enjoyable stay.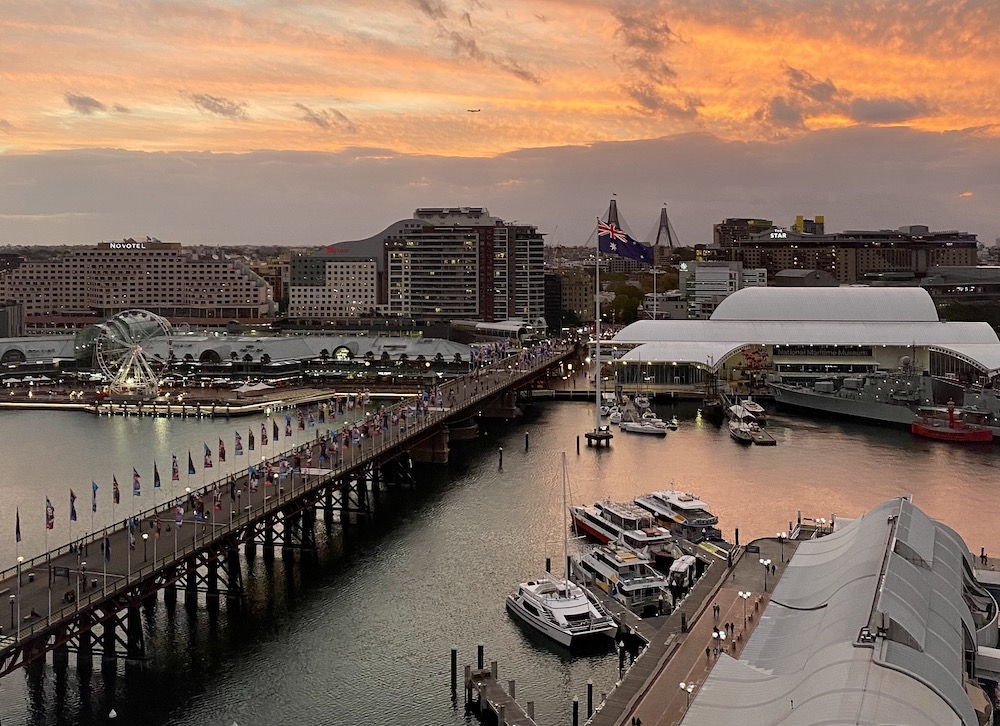 6pm: Drinks at Zephyr
A stay at Hyatt Regency Sydney isn't complete without paying a visit to the hotel's rooftop bar, Zephyr.
Since launching in 2017, Zephyr has become highly regarded (and awarded) bar, known for its mix of classic and contemporary drinks and of course, the stunning views across Darling Harbour from its 12-floor vantage point.
Bookings are essential, particularly from Friday through to Sunday, when visitors and Sydneysiders alikes flock to grab a spot at the rooftop venue. The bar can also be partially or exclusively hired for events.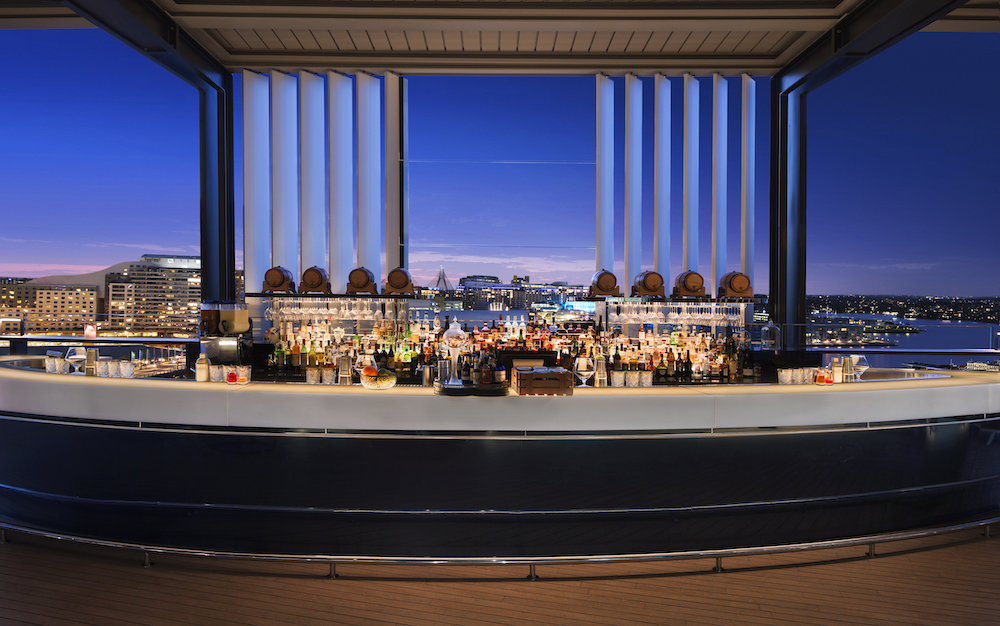 7pm: Dinner at Jackalberry
While there's a number of dining venues to choose from at Hyatt Regency Sydney, a booking at Jackalberry is a must.
Perfect for those of us who are itching to travel the world again soon, the cocktail bar takes diners on a journey across the globe through innovative cocktail and food menus.
The hardest decision you'll make all evening is choosing between the Peruvian Sour, the Lost in Venice or the Jackalberry Secret Beach – all excellent options from the globally inspired drinks list.
The food menu is an equally exciting journey, with the slow-cooked BBQ pork ribs, Shen Jian bao and the fresh burrata among the stand-out items.
8am: Breakfast at Sailmaker Restaurant
Named after Sussex Street's former life as home to sail-making businesses in the late 1800s, Sailmaker Restaurant is the hotel's signature dining venue known for its extensive breakfasts and seafood dinners.
Despite having to cater for hundreds of hungry hotel guests each morning, the breakfast buffet is thoughtfully designed and tables are well spaced throughout the large venue to avoid lengthy queues and congestion.
If you have the chance to book a table for dinner, you'll enjoy a feast of Australia's finest produce and you'll see why Sailmaker's seafood experience is one of the most popular in the city.
10am: Exploring the event spaces
If guests are staying for a conference or business event, they'd now be making their way to one of the many event spaces located throughout the property.
The hotel's main event spaces are located past the hotel entrance, in a quiet area that feels separate and secluded from the other public areas.
With more than 3,700 square metres of meeting and event space on offer, including the two highly lauded ballrooms, the hotel can comfortably and safely cater to in-person events of varying sizes.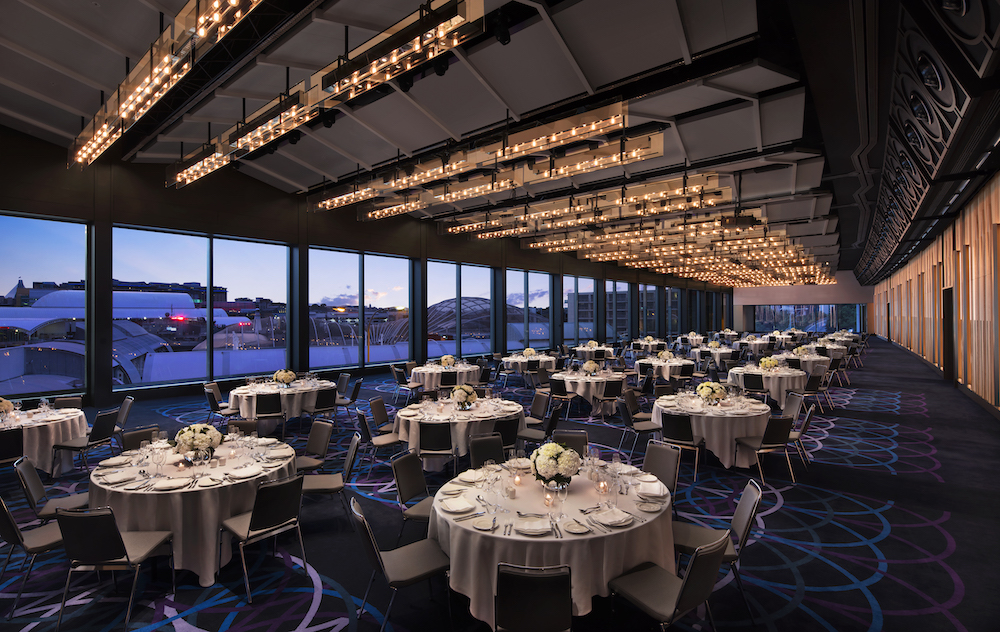 The hotel also boasts 21 meeting spaces and breakout rooms, each with character and stylish interiors, and many with natural light.
Throughout 2020, while much of the world was shut down, Hyatt Regency Sydney were among the few venues still operating and hosting business events.
Due to venue's size, their forward-thinking approach to hosting virtual and hybrid events and their strict COVID-safe plans, the venue held a number of major events.
In fact, between 1 September 2020 and 31 March 2021 alone, the venue hosted more than 300 events and welcome thousands of delegates through the doors for award ceremonies and business luncheons through to hybrid conferences and upscale weddings. You can read all about it here.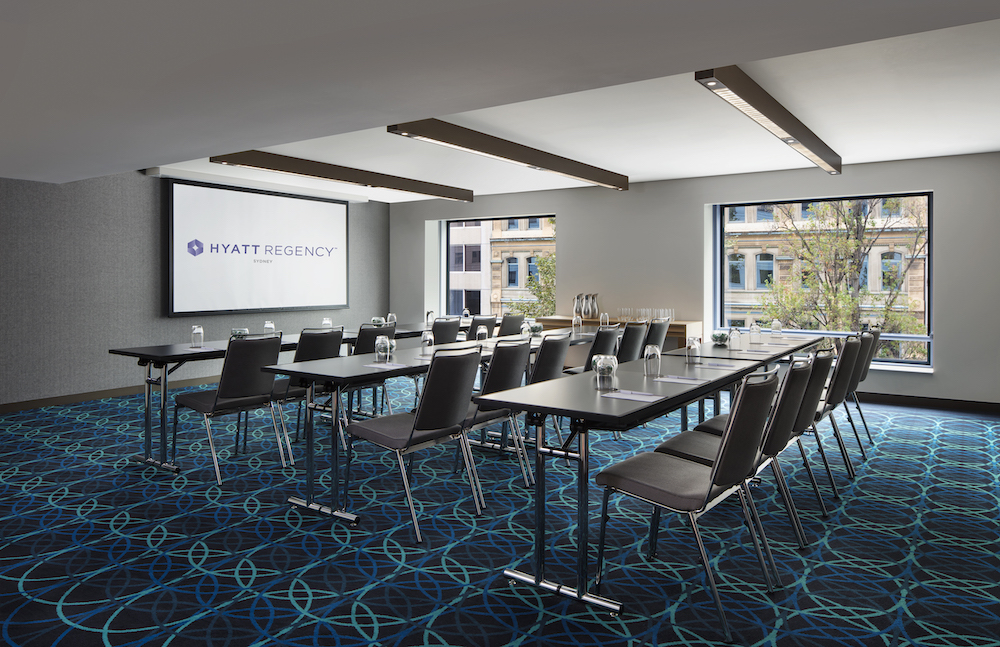 12pm: Lunch
With a little extra time to spare, why not finish your stay at the Dundee Arms, located just outside the hotel's main entrance.
Since opening in 1860 Dundee Arms has been a prominent part of the area and was once a thriving hub for sailors who docked in the harbour and the city's working class.
Today, customers can expect classic pub favourites set amongst the heritage backdrop.
Whether staying for a conference or checking in for leisure, Hyatt Regency Sydney offers everything you need for a great stay.
The choices of restaurants and bars will have your itinerary brimming with activity, while simply being located steps from Darling Harbour and the CBD offers endless options pre- and post-stay.
Find out more about the hotel and its event capabilities here.