Popular HBO TV show True Blood was the source of inspiration for a recent event held for Australian Fashion Week at Sydney's Overseas Passenger Terminal's Cargo Theatre
By Gwen O'Toole
Popular HBO TV show True Blood was the source of inspiration for a recent event held for Australian Fashion Week when Warner Home Video teamed up with fashion label Saint Augustine Academy on the catwalk at the OPT's Cargo Theatre for Australian Fashion Week.
The vampire-inspired show also promoted the release of Season Two of True Blood on DVD on May 19.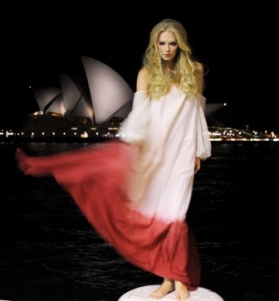 Warner Bros has teamed up with St Augustine Academy to launch True Blood Season 2 at an exclusive event

"Warner Bros. Interactive Entertainment and Home Video enjoy significant cross promotional opportunities," said Roger Clarke, Warner Bros. Home Entertainment Group MD. "It made sense to have a single agency working across both divisions. We've got some really strong titles releasing this year, starting with True Blood Season 2."
The gothic event saw Designer Alvin Manalo using the True Blood series as inspiration for Saint Augustine Academy's first individual collection at fashion week with a show called 'Crystal Ballroom' featuring a collection of couture of black, white and a splattering of red.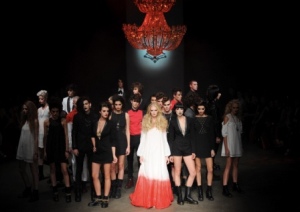 The fashion collection, inspired by the TV program True Blood was presented in the Cargo Theatre at Sydney's Overseas Passenger Terminal
The event, overseen by Sydney based agency One Green Bean is also producing a vampire themed event in Sydney's King's Cross tomorrow night (May 12) named after True Blood's popular vampire nightclub Fangtasia.
Dying to get a glimpse of how the event happened? Click here:
You need Adobe Flash plugin version 9.0.115 or
higher to view the videos on this site
Get it here, it will only take a minute (1 MB)
function SMGAddEvent(obj,evType,fn){if(obj.addEventListener){obj.addEventListener(evType,fn,false);return true;}else if(obj.attachEvent){var r=obj.attachEvent("on"+evType,fn);return r;}else{return false;}}
SMGAddEvent(window, 'load', function (){ var smgPlayer = new SMGPlayer(140,0);
smgPlayer.SetWmode("window"); smgPlayer.Write(35271,300,376,'smg_player_35271'); });