Spice News caught up with the Te Pae's general manager ahead of the venue's highly-awaited official opening ceremony.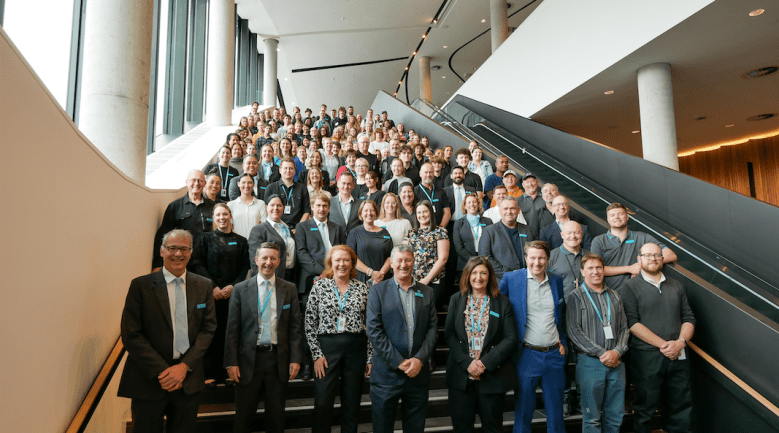 General manager Ross Steele (front and centre) with his team at Te Pae Christchurch Convention Centre.
Following four years of construction and a number of pandemic-related delays, the brand-new Te Pae Christchurch Convention Centre is ready to open its doors.
Spice News caught up with the Centre's general manager, Ross Steele, ahead of its highly-awaited official opening ceremony this Friday.
Spice News: Te Pae Christchurch Convention Centre has been declared as the "first new generation convention centre in New Zealand." What exactly does this mean / how is it different to other convention centres in the country?
Ross Steele: Te Pae Christchurch is the first of three brand new international standard convention centres to open in New Zealand. The centre has technology and innovation at its core, and among its many in-built high tech features are an integrated building management system, audio-visual and hybrid capabilities to the highest level, and a Wi-Fi network that allows for 800 4k screens to play simultaneously.
SN: What does having a world-class convention centre like this mean for Christchurch, and business events in New Zealand in general?
RS: It opens the door for Christchurch and New Zealand to market and attract significant international events, which our city has not been able to host for some time due to the appropriate infrastructure not yet being in place.
New Zealand is on the cusp of opening a raft of international standard venues, but Te Pae Christchurch will be the first to open which will stand Christchurch in good stead over the next few years.
SN: What will your biggest focus be over the next 12 months and what excites you the most about what's ahead?
RS: Operationally, over the next 12 months we can't wait to work with our clients to host successful events.
From a business development perspective, it's continuing to grow our domestic and Australian business, and as the borders open up, looking at growing our international market share.
SN: The past two years have caused many challenges for the business events industry and significant delays for the Centre. How has your team handled this and what are you most proud of?
RS: The team have been incredible. They have continued to innovate and look for different ways to work together and get us to where we have needed to be. Between them, they've completed over 6,000 training courses, prepared Quality Assured plans and documents, launched and operated our Activation Hub, recruited a great team and prepared the Centre for opening, and they have done it all with a focus on excellence and commitment to manaakitanga (extending love, compassion and support to others).
SN: As we all adapt to a "new normal", hygiene and safety will continue to be front of mind for events planners and delegates. How will Te Pae ensure a COVID-safe environment for in-person events?
RS: Our international standard venue will feature ASM Global VenueShield protocols. VenueShield is a hygiene and sanitisation program developed by our parent company ASM Global in conjunction with leading world health experts. We have also developed our own policies and plans based on the Government's Covid Protection Framework, which we continually review and update as new information and guidelines come to light.
SN: The Centre was awarded Toitū Enviromark Gold certification for its sustainability practices. Can you tell us more about what this achievement means?
RS: From the outset, our team has been committed to sustainable operations and taking positive environmental action, and we have been working with Toitū since early 2020 to proactively manage Te Pae's environmental risks and opportunities. Receiving gold status acknowledges that Te Pae has successfully implemented significant sustainability operations, which is a huge achievement for our team.
SN: What are some of the uniquely Christchurch or New Zealand features and offerings guests can see or experience at Te Pae?
RS: Te Pae Christchurch is a true reflection of our city and local region. Our food ethos is centred around showcasing the very best our region has to offer; while our building and artwork was inspired by Māori culture and designed to reflect the landscape of Canterbury.
SN: What are some of the best local experiences you recommend visitors should try in Christchurch? 
There have been some fantastic restaurants and bars that have opened up in Christchurch over the past few years, particularly in Riverside and The Terrace developments.
You also can't beat a walk in the Port Hills – the views of the city and over to Lyttelton and Banks Peninsula are simply incredible.