The achievement reflects Singapore's holistic efforts and commitment in becoming a sustainable urban destination.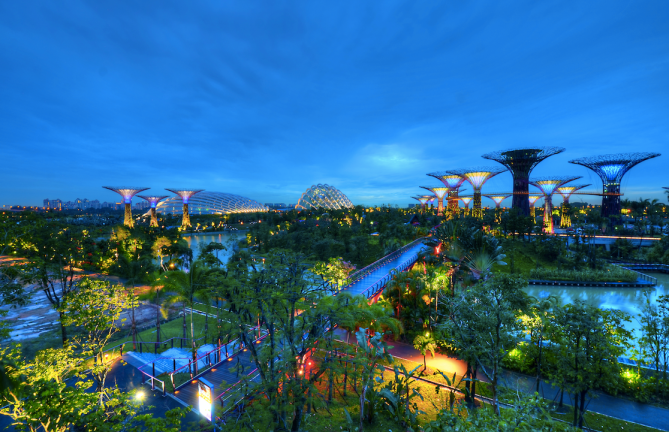 Gardens by the Bay, Singapore.
Singapore has been officially certified as a sustainable destination based on the Global Sustainable Tourism Council (GSTC)'s Destination Criteria, after being the first to apply the certification process on a country level.
The GSTC Criteria are the global standards for sustainable travel and tourism, and Singapore was certified based on its performance in four pillars: sustainable management, socio-economic sustainability, cultural sustainability and environmental sustainability.
This achievement reflects Singapore's efforts and commitment in becoming a sustainable urban destination as it works towards the Singapore Green Plan 2030, and is also in line with the Singapore Tourism Board's (STB) Tourism Sustainability Strategy which was launched in 2022 and sets out actionable strategies for the tourism industry.
Announced in 2021, the Green Plan charts Singapore's ambitions and targets over the next ten years, strengthens its commitments under the UN's 2030 Sustainable Development Agenda and Paris Agreement, and positions the country to achieve net zero emissions by 2050.
Singapore's certification follows similar achievements by key tourism partners such as Sentosa Development Corporation, Resorts World Sentosa and Marina Bay Sands Singapore, which had also achieved certification based on the relevant GSTC Criteria.
STB chief executive Keith Tan said becoming certified was just the beginning of Singapore's journey.
"We are proud to receive this certification, which reflects Singapore's commitment to the Singapore Green Plan 2030 and becoming a City in Nature, where large experiences come with a small footprint," Tan said.
"Tourism businesses must do more to internalise sustainability as part of their offerings, so that they can contribute to making Singapore greener and more liveable. Our vision is to become one of the world's most sustainable urban destinations and we now know we are on the right track."
GSTC chief executive officer Randy Durband said the commitment shown by Singapore's tourism sector in supporting the Green Plan was apparent in its holistic approach to sustainable tourism.
"We see first-hand some of their efforts to engage key subsectors of tourism in meaningful ways. Gaining destination certification requires that level of commitment and holistic approach and we commend them and are pleased to support their efforts for continuous improvement," Durband said.
STB will continue to engage its partners, build on the destination's existing strengths and ramp up efforts in areas of improvement.