Consciously curated gift boxes featuring unique products from indigenous artisans are here just in time for the gift-giving season.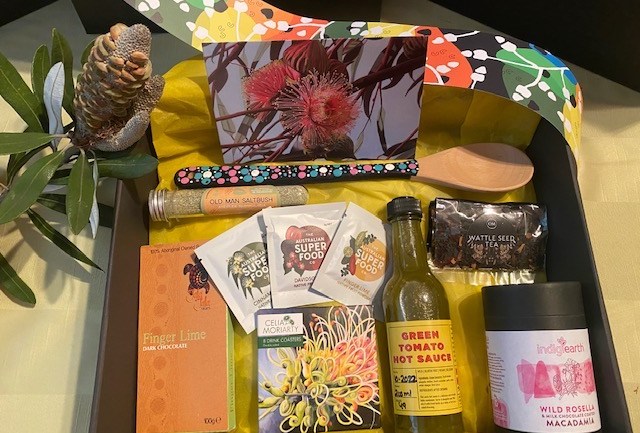 Event management company KE Creative Events has launched a range of consciously curated Native Gift Boxes, featuring a variety of unique artisanal products from indigenous communities and artists around Australia.
Sourcing the products directly from the creator or charity has ensured the money goes straight back to them and their communities which KE Creative events manager Carol Rothschild says goes towards a worthy cause.
"We have spent a considerable amount of time to ensure we could connect with the artists and producers directly," Rothschild said.
"Their stories are rich and from the land and it is so important that we respect their creativity and learn more about their culture."
Just in time for the festive gift-giving season, the Native Gift Boxes range include five different boxes and feature items such as native foods, herbs and spices, handmade arts and homewares, and health and wellness products.
Designed to delight even the most discerning foodie, the Protea Box features an assortment of Australian-made artisanal chocolate, organic native tea, and spices, sauces, relishes and more, all made from native herbs and plants.
The Native Care Box is perfect for those that need to relax and unwind, with pampering essentials such as a handmade body bar made from essential oils, an eye pillow infused with organic botanicals, and a nourishing lip balm created by non-profit indigenous health service charity Purple House in Alice Springs.
Additionally, bespoke boxes can be curated to your preference and each box comes complete with a large gift card featuring images of native flowers painted by Melbourne artists Celia Moriarty that can personalised with your message.
Every box is natural and sustainable, comes in black or white and can include your own branded band on the exterior, as well as your own branded items inside. Conveniently, postage and delivery options include interstate and international.
"Each box can be tailored to your preference, and the unique indigenous items we include each have their own special story to tell," KE Creative director Nadia Kentera said.
"They really are a very special gift for your clients, colleagues, friends and family."