Pan Pacific Singapore has tyesterday announced it will be embarking on the hotel's biggest transformation in its 25-year history since its opening
Pan Pacific Singapore has yesterday (11 April) announced it will be embarking on the hotel's biggest transformation in its 25-year history since its opening in 1987.
The extensive S$80 million investment for the 790-room property will see guest rooms, restaurants and lobby undergo a major transformation from this month. The highlight will be the spectacular 360 degree view Pacific Club on Level 38, the topmost level of the hotel.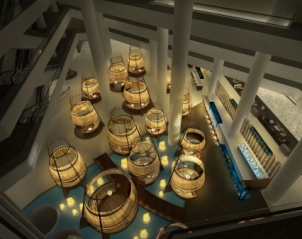 The multi-million dollar refurbishment will see the property transform its guest rooms, restauarants and lobby (pictured).

The hotel will close on 15 April and is scheduled to re-open part of its premises and facilities – 150 rooms and public areas on level one – from August 2012. The new Pan Pacific Singapore is expected to be fully operational in September this year.
"The transformation will enhance our competitive advantage in the Marina Bay vicinity. Pan Pacific Singapore will emerge newly-refreshed and it will spur the momentum of our growth," said Scott Swank, general manager of Pan Pacific Singapore.
Wholly-inspired and influenced by guests and associates (staff), the new features and innovative concepts are a result of a robust review of the Pan Pacific brand conducted through in-depth research into their insights. This transformation builds on the strengths and heritage of the award-winning Pan Pacific brand to ensure its consistent delivery of premium accommodation, high quality amenities and service excellence which guests expect of a cutting-edge 5-star hotel.
"The involvement of our guests and associates from start to completion bears testament to our commitment to conceptualise and design enriching experiences relevant to them and their needs. With this transformation, the hotel will embody the qualities, the discreet elegance, personalised and uncomplicated service, and a renewed commitment to quality that guests at Pan Pacific Singapore appreciate," added Swank.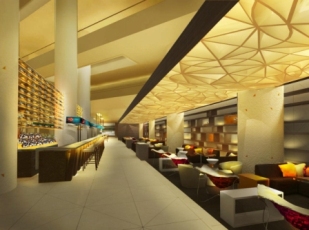 The Lobby Bar at Pan Pacific Singapore.
"Our heartfelt gratitude goes out to our valued guests and associates for their continued support as we embark on our grand transformation. By September 2012, we look forward to welcoming them back at a new Pan Pacific Singapore that will deliver a refreshing Pacific experience to all," added Swank.
From April to July, the Pacific Ballroom, the swimming pool, fitness centre, St. Gregory Spa and pool restaurant will be open and accessible via the Pacific Ballroom foyer, driveway and pre-function area. Additionally, patrons can access the Royal Room and Club Mink via the main driveway.
Pan Pacific Singapore is located in the heart of Marina Bay with easy access to world-class shopping, Suntec Singapore International Convention and Exhibition Centre and the Central Business District.